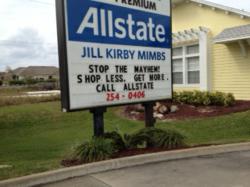 The biggest justification for trying to save the captive agency distribution channel has nothing to do with the individual agent's need to earn a living. Instead it's all about what's best for the insured.
Ft. Lauderdale, FL (PRWEB) March 23, 2012
Reason #5 - Consumer Comparative Shopping Habits continue to grow as their Brand Loyalty Shrinks and Their Group Loyalty Increases
If Facebook was a country it would be the third largest, only surpassed by China and India. The foundation of Social Media isn't really technology; it's the human need to connect and interact with each other, sharing each other's experiences in real time, influencing each other's world view on everything including insurance.
Business owners know that the best advertising is always word of mouth, and that a referral from a satisfied client is way more valuable than any other lead source. That's why you see consumer ratings on every major B to C web site and C to C sites like Angie's List. With social media becoming infused into our daily lives, and with the average consumer being exposed to 600 to 3000 ad messages per day, it's no wonder that brand loyalty is eroding and group loyalty is growing.
I believe Allstate understands this reality and is attempting to work it from both angles. On one hand they are embracing it through their 2012 Esurance advertising campaigns. Esurance commercials show case their customer comments in addition to their message of on-line convenience. On the other hand Allstate's name sake is working hard to counteract the influence of group loyalty and the consumer's desire to comparison shop via their Mr. Mayhem and their other advertising campaigns. Allstate ads tell the consumer that they should "Shop Less. Get More," with Allstate, while their underlying message from Mr. Mayhem is that value is more important than price. After each mishap of Mr. Mayhem's doing, he always reminds his audience that if they got their insurance from company "X" they'll be real sorry when they file their claim. Companies like State Farm, Farmers and Nationwide also focus on media messages that promote the value of their agents as consumers interact with local professionals that they know.
Individual agents are doing their best to deal with this new marketing reality by getting involved in social media with their businesses. Independent's that don't deal in securities are having the greatest success in this new competitive land scape, simply because they have more freedom in what they say with less corporate compliance issues than captive agents and their series 6 and 7 counter parts.
Why Should this Trend be Reversed? Why Try to Save the Agency Distribution Channel?
The biggest justification for trying to save the captive agency distribution channel has nothing to do with the individual agent's need to earn a living. Instead it's all about what's best for the insured. The essence of this justification lies in the very nature of what property and casualty insurance actually is and how it works.
Cutting out the legalese language let's not forget that insurance is actually nothing more than a promise to financially take care of a person or business when something bad happens, specifically a covered bad thing. Insurance is clearly not a commodity like pork bellies as some may believe. Remember a pig today is still a pig tomorrow, unless of course it became part of a ham or a slab of bacon. Insurance on the other hand depends of the wording of that unilateral contract of coverage; contracts that often change, not only by each type of coverage, but even between policy periods. When bad stuff happens, especially bad stuff that occurs completely outside of one's own control, people become distressed, upset, and suffer emotionally. The last thing someone needs to hear is what they thought was covered isn't.
People in the business know that this scenario happens more often than not, because they know how P&C coverage works. In other words, as professionals they know that claims are settled based upon the insured's insurability at the time of loss. This often over looked fact frequently wreaks havoc in people's lives, mostly occurring to those that don't have a good business relationship with their local insurance agent.
People that have regular conversations and account reviews with their local agent seldom experience such unpleasant surprises. People who independently manage their insurance policies themselves are usually the ones who suffer the most.
So the question is how can a direct writer's licensed representative get to know an individual insured or business owner without living and working in the same community? It simply doesn't happen.
In part 4 of 4 recommendations on how to keep the captive agency distribution channel from dying will be presented.