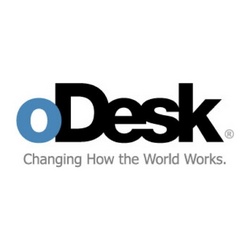 oDesk salutes the quality these top performing providers have achieved in their online work performance
Menlo Park, CA (PRWEB) June 11, 2009
oDesk, the leading marketplace for online workteams, today announced the first results in an ongoing "best provider" recognition program. Every month, oDesk will rank 25 leading freelance providers from around the world in its five top job categories: designers, software developers, web developers, writers, and virtual assistants.
oDesk's "Best" were selected from those who performed the most hours during the month while receiving the highest feedback ratings. Monthly recipients will receive exclusive web badges recognizing their achievement that can be used to attract future service customers.
oDesk's May honorees have all recently completed assignments, and are currently available for hire. The lists of recognized providers can be viewed at:
Best Freelance Designers
http://www.odesk.com/community/oconomy/best_freelance_designers
Best Freelance Software Developers http://www.odesk.com/community/oconomy/best_freelance_software_developers
Best Freelance Web Developers - http://www.odesk.com/community/oconomy/best_freelance_web_developers
Best Freelance Writers
http://www.odesk.com/community/oconomy/best_freelance_writers
Best Virtual Assistants
http://www.odesk.com/community/oconomy/best_virtual_assistants
"oDesk salutes the quality these top performing providers have achieved in their online work performance," said Gary Swart, oDesk CEO. "Through the hours they have worked and the feedback ratings they have earned, these providers can truly be considered among the best in their respective job categories. oDesk is proud to be home to such outstanding talent, and we encourage those looking to build online workteams to consider our monthly recognition program an up-to-date starting point in their search."
About oDesk
oDesk (http://www.oDesk.com) is the leading marketplace for online workteams, with the best model for both buyers and providers:
For buyers: Guaranteed work -- every hour billed is an hour worked. Screen captures of each provider's desktop taken at random intervals enable buyers to audit the hours and work completed so they have confidence every hour billed by a remote team member is an hour worked. This capability also enables the buyer to collaborate more closely and redirect the provider if necessary, much like you do when you manage by walking around the office.
For providers: Guaranteed payment -- every hour worked is an hour paid without the hassle of invoicing or slow-paying clients, making oDesk the preferred marketplace for more than 265,000 professional contractors, including software engineers, web developers, graphic designers, writers, researchers, admins and customer service agents.
# # #