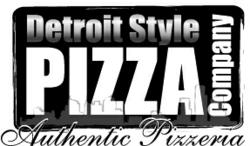 We want our long-distance customers to feel like they're as much a part of Detroit Style Pizza Co. as our local customers do.
Detroit, MI (PRWEB) November 07, 2012
Detroit Style Pizza Co., crowned World's Best Pizza at the 2012 International Pizza Expo, is giving away authentic square steel pizza pans to all customers who purchase Detroit Style Pizza Packages via the pizzeria's online mail order service until November 30, 2012. The giveaway aligns with Detroit Style Pizza Co.'s mission to become one of the most popular pizza styles in the United States, alongside New York and Chicago styles.
Customers can bake their own Detroit Style Pizza in pans prepared with World Champion Pizza Maker Shawn Randazzo's signature seasoning process. They are the same pans Randazzo uses to bake award-winning Detroit Style Pizza at his metro Detroit locations and supplies to other pizzerias nationwide. Mail order pizza packages can be purchased online at DetroitStylePizza.Co.
"We want our long-distance customers to feel like they're as much a part of Detroit Style Pizza Co. as our local customers do. Giving away our pans so they can make their own authentic Detroit Style Pizza at home seemed like a great way to express that they are valued members of our community, no matter where they live. You don't have to be neighbors to share great food and traditions," said Randazzo. "We want Detroit Style Pizza to be a household name nationwide, and hopefully our customers will share it with their friends and family to help establish Detroit Style Pizza as one of the Big Three pizza styles."
Authentic Detroit Style Pizza is baked in well-seasoned square steel pans, a tradition that dates back to the 1940's when automotive manufacturing parts trays were used as pizza pans. The seasoned pans result in a pizza crust that is light and airy on the inside and crispy on the outside. Pepperoni is layered directly on the crust, brick and mozzarella cheeses are spread edge-to-edge, and additional toppings are sprinkled on top. The cheese caramelizes to the crust edges during baking, and red sauce is ladled on last – lending the nicknames "Upside Down Pizza" and "Red Top Pizza."
Available pizza packages include cheese, pepperoni, veggie, meat supreme and mix-and-match variety packs. Gluten-free pizza packages are also available. Each pizza package consists of three pizzas and is priced between $38 and $40. Detroit Style Pizza Co. mails pizza packages coast-to-coast in packaging that keeps ingredients fresh and ready to bake on delivery. All mail orders from the previous week are shipped overnight on Monday and usually arrive on Tuesday.
For more information, visit DetroitStylePizza.Co.
Detroit Style Pizza Co. serves the award-winning Authentic Detroit Style Pizza in its two Metro Detroit locations and increases awareness of Detroit style pizza through expansion, education, and sharing its history while providing memories and opportunities for others. Owned and operated by Shawn Randazzo and his mother, Linda Michaels, Detroit Style Pizza Co. is located at St. Clair Shores (586-445-2810) and Clinton Township (586-286-9030); and delivers Detroit style pizzas coast-to-coast via mail order. Focused on quality, community and people, Detroit Style Pizza Co. is open from 3 p.m. to 10 p.m. weekdays; 11 a.m. to 11 p.m. Friday and Saturday; and 11 a.m. to 10 p.m. Sunday.
# # #