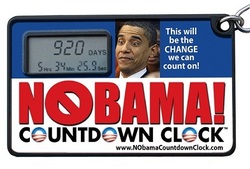 Bellevue, WA (PRWEB) July 28, 2010 –
For a limited time Rockme Novelties is giving away a free Prez BaRock with every two NObama Countdown Clocks purchased.
Each NObama Countdown Clock™ is a beautifully designed clock/key chain, and is approximately the size of a credit card allowing owners to take them wherever they go to keep track of Obama's days left in office. The LCD screen continuously displays the time remaining in days, hours, minutes and seconds, so owners 'make no mistake' counting down to the end.
Prez BaRocks (Pet Rock meets Politics) which normally retail for $15.00 each include over 50 rhetoric stickers, covering a wide range of views and on topic ideas about our world today, including sayings like, "No We Shouldn't", "Change we'll be counting forever", and "Back in the U.S.S.A.". Each sticker is reusable and be changed often. Each Prez BaRock comes with a 4" square clear cube for easy display or use the enclosed patriotic 'briefing room' fold-out backdrop for a more prominent display of the custom stickers.
"Due to our overwhelmingly successful launch of the NObama Countdown Clock.", said Patrick Phipps, CEO of Rockme Novelties, "We are immediately giving away one free Prez BaRock with every two NObama Countdown Clocks purchased, no strings attached."
NObama Countdown Clocks retail for $9.95 each and are available for purchase online at NObamaCountdownClock.com.
Rockme Novelties creates innovative political and pop culture consumer products that are relevant to today's world. Rockme Novelties is headquartered in Bellevue, Washington.
Media Contact
Diane Lockhart
(425) 468-6100
pr(at)prezbarock(dot)com
###