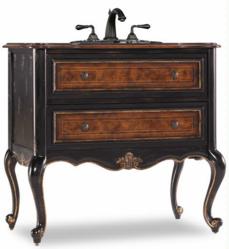 French Country style isbased on hundreds of years of design and culture, an inherently eclectic aesthetic that can range anywhere from extremely sophisticated and ornamental all the way to somewhat shabby-chic.
(PRWEB) March 13, 2013
HomeThangs.com – the Home Improvement Super Store has made their goal to deliver the right product to the consumer. With that in mind, shopping and home design tips, as well as special product selections are being introduced.
French country bathroom design has become one of the most popular styles for a luxury bathroom remodel. But it can be a little difficult to pin down what exactly French country design is. After all, it's based on hundreds of years of design and culture, an inherently eclectic aesthetic that can range anywhere from extremely sophisticated and ornamental all the way to somewhat shabby-chic. For those who aren't sure which direction to go, HomeThangs.com introduced a few tips and ideas on bathroom vanities that exemplify several different French country styles.
1. One Big Showpiece
Historically, French design – from architecture to clothing to interior design – is highly self-referential. For hundreds of years, what was fashionable among the nobility would be literally passed down to the lower classes within five or ten years, creating a piecemeal and rather retro fashion cycle. In the same way, furniture from different periods is seamlessly paired together, and really beautiful antiques can be used in a more neutral space to make a statement by contrast. While a French country bathroom will almost always have some rustic elements, it's this layering of different designs that's important, and including an elaborate, antique-style piece accentuates the luxurious and historical part of a French country design and lends sophistication to the bathroom design.
2. Adding an Antique
While an antique can be used in a more neutral space, one can also go farther with it, pairing a beautiful, ornate, antique inspired bathroom vanity, like, for example, the Bellavita by Cole+Co, with an oversized gilt mirror in a fancy frame, and maybe even a chandelier. It is important to keep some country elements – whether that's wood (or wood tile) floors, a clawfoot tub, or exposed beams, but French country design doesn't have to be simple. French design is all about layering different influences in one space to create an eclectic sort of beauty.
3. Going For Furniture
It's important to remember that in French country design, the bathroom is treated as a part of the rest of the house, without many of the water and humidity proof rules that contemporary American design usually applies to it. That means not only adding things like rugs, fabric curtains, and fancy lighting fixtures, but also that the bathroom vanity should be more like a piece of furniture than a set of permanent cabinetry. For example, bombe dressers like the Walnut Bombe vanity from Hardware Resources for instance, offer the look and feel of a boudoir.
4. Rustic Charm
On the opposite end of the spectrum are bathroom vanities that tend more toward the country end of French country design. For example, - weathered wood floors, an antique clawfoot tub, whitewashed walls convey an overall slightly weathered feel. This emphasizes both the rustic country feel as well as the reclaimed antique. One can go for more or less rough and rustic – some people like a very heavily weathered finish, others prefer something neat and clean but with a country character, like, for example, the hand painted Antique Vanity from Belle Foret.
5. A Touch of Country
In some ways, French country bathroom design skates alongside the country or seaside cottage style popular in the American northeast, specifically in terms of using lots and lots of white. Where the designs differ, though, is in terms of accents. For example, the Dover Vanity from Kaco would look equally lovely in a cape cod or French country bathroom, but in the case of the latter, it would be more likely to see lots of small ornamentation as opposed to a more spare turn of the century aesthetic.
6. Something Slightly More Sophisticated
Another way to make the distinction between a French country style and a more American country cottage style is to up the age and furniture quality. While many cottage style bathroom vanities feature a white-white beadboard finish (which is fab in a country cottage), for a more French style, it is recommended to look for a slightly aged, antiqued finish, and more detailed woodwork. For example, Sanibel Vanity from SunnyWood, which not only has subtle but stunning paneling, but also uses the antique finish to draw out the detail of the lines, giving it a regal sense of age that's perfect for a French country design.
Ultimately, French country bathroom design is an aesthetic that borrows heavily from itself and others. A French country bathroom doesn't have to look like any one thing, but consists of a million different elements one can combine as one sees fit.
HomeThangs.com is not only a home improvement superstore, it also provides expert design tips and a comprehensive shopping guide, taking the ideas from professional interior designers, and offering tips to the consumers on how to pick the products to best suit their needs.