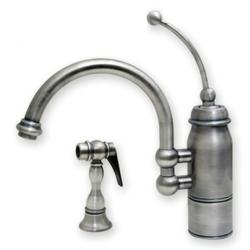 Because French country kitchen faucets are much more ornate than modern designs, they can actually work very well as a centerpiece for the kitchen.
(PRWEB) March 14, 2013
HomeThangs.com – the Home Improvement Super Store has made their goal to deliver the right product to the consumer. With that in mind, shopping and home design tips, as well as special product selections are being introduced.
Stainless steel, versatility, and utility are all the rage. But those who don't like this sparse modern aesthetic, and would rather feel like a home cook than a high-octane chef, might want to opt for something a little more traditional. For those whose kitchen tends more toward French country than 5-star modern chic, HomeThangs.com offers a few tips on finding a traditional kitchen faucet that would be a better fit for the style.
1 . "NO" to Culinary Style
Sinks, faucets, and appliances can all look great in stainless steel, but in a traditional kitchen – especially one done in a French country style – it draws attention to itself as being entirely too modern. Stainless steel faucets look great with stainless steel sinks, but less stunning with more traditional fireclay or copper sinks. As well, the minimalist shapes of industrial-style kitchen faucets are at odds with the lush and ornamental style of a French country kitchen. Instead, it is recommended to opt for something that has both a more lustrous finish and a more detailed, ornamental design, like, for example, Bridgeford Kitchen Faucet from Grohe.
2. Nice Necks
One of the biggest differences between traditional faucets and more modern ones is the shape of the neck. While modern faucets have a simple U or J bend to them, traditional faucets are more elaborately shaped, both curvier and more angular, with more ornamentation at every bend. Something like the Bridge Faucet from Rohl's Perrin and Rowe Collection, for instance, would offer the same depth as a modern faucet, but it takes a more scenic route to get there, iffering a more appealing silhouette that immediately invokes a French country design.
3. Ornamental Handles
Secondly, traditional kitchen faucet handles are often quite different from the modern single-lever style. Cross style handles are the most traditional, but certainly not the only option. This is definitely something to pay attention to, as it can affect the way the kitchen faucet is used. For example, while cross and lever style handles are very traditional, if one is used to having a single handle control both the hot/cold and the volume of water, one might be better off with a faucet like, for example, the New Horizon Faucet from Whitehaus, which allows for the same control as a modern faucet, but with a classic ornamental handle.
4. Really Ornate Designs
Because French country kitchen faucets are much more ornate than modern designs, they can actually work very well as a centerpiece for the kitchen. Perhaps most notably, Herbeau has an entire line of kitchen faucets based on authentic 19th century French designs which not only have beautiful finishes and detailing, but also stunning ash wood handles. For example, their De Dion collection (including this De Dion Wall Mount) features the handles based on the gear shift of the 1904 DeDion-Bouton automobile. With a completely unique style and historical flair, these faucets are not merely a traditional French choice, but act as a stunning focal point for a French country kitchen.
5. Functionality
Culinary-style kitchen faucets aren't in-vogue for no reason. While they might not be the prettiest faucets one can find, they definitely get the job done, and are often more intuitive and more usable than the conventional models. With flexible necks, pull down hoses, adjustable sprayers, and a whole host of other features, restaurant style kitchen faucets are definitely more versatile. But choosing the right faucet can have an impact on the overall look and feel of the kitchen. In a French country kitchen – or with any traditional style – a gadget-laden faucet will stand out like a sore thumb. Something like the Marielle Faucet from Price Pfister, for example, might not have all the same features, but it blends much better with a traditional style, and completes a country style kitchen.
6. Getting the Best of Both Worlds
Those who like the look but don't want to lose the functionality of modern faucets should not worry either. It's a little harder to find models with the same features, but not impossible. The most popular and important feature is the pull-down faucet with an integrated sprayer. Many French country kitchen faucets come with separate sprayers, but for full modern functionality, one should look for something like the Prince Faucet from Danze, with an extending, flexible hose and adjustable sprayer. Not only does it offer a more seamless look on the counter top, and greater functionality with the faucet, but also the same great look from a traditional faucet.
HomeThangs.com is not only a home improvement superstore, it also provides expert design tips and a comprehensive shopping guide, taking the ideas from professional interior designers, and offering tips to the consumers on how to pick the products to best suit their needs.