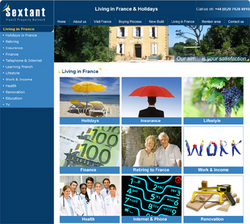 London, UK (PRWEB) March 2, 2009
According to Matthieu Cany and Brice Bonato, Managing Directors of Sextant French Property Agents, their website needed more content to better help their customers in their search of a property in France.
The previous version of the website already included several guides about the most popular regions of France. As time went by, more content has been added such as sub-region and town guides. Navigating on the Brittany pages now gives a pretty clear idea of the work achieved.
Having been in contact with customers purchasing properties in France for several years now, the directors decided to better answer the most common questions asked by their customers by developing a new section on the website called "Living in France". This section contains 12 main subjects:

Holidays: this page contains all the useful websites to look at for those looking to spend holidays in France as golfers, skiers or simply for people who are looking to enjoy the sun on a sandy beach.
Insurance: this page describes the major aspects related to insurance in France (which is pretty similar to the UK).
Lifestyle: this page describes the advantages to spend holidays in France or even better to move to a country well known for its food and wine culture.

Finance: customers might need to take a French mortgage to buy a property; very often they will need to transfer money to France to secure the purchase. If they decide to retire to France, they can set up a regular pension transfer plan between the UK and France.
Retiring to France: this is a very passionate subject, most people in the world dream to retire in a sunny place, and France is among the most popular destination for retirees. In this section, people looking to move on a permanent basis will find a lot of tips and useful information before the big leap.
Work & Income: For those who are not lucky enough to be retired yet, they can find several ways to get a job in France such as working as a freelancer. In this section, there is some useful information that may help anyone thinking to work in France.
Health: France is well known for its excellent healthcare system, this page explains how it works for people moving from abroad.
Telephone & Internet: broadband availability is one of the most common questions asked by customers prior to a move in France. There is a link to a website which shows the different zones and access points.
Renovation: This page contains a few tips and advice for adventurous people looking to buy a property in need of part or total renovation.
Education: The French education system is pretty different to the British one; this page explains very precisely this complicated but efficient system and the different types of schools available.
Learning French: Some British people who already moved to France manage to live there without speaking a single word of French. However, if they want to integrate in the local community, they better have to learn a few words of French! French people will be pleased to hear their foreign accent and to help them finding the right words. In this section, there is some information about the different ways to learn French.
UK TV in France: British people very often wish to stay connected while they spend holidays or move permanently in France. Getting British channels in France has never been so easy. This section explains how to get UK TV while living in France.
The Sextant French Property team will continue to add more quality content within the next few months in order to become the reference in their field: the French Property market.
###