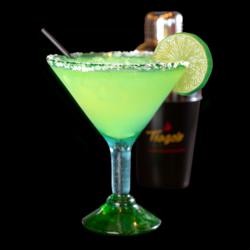 "During St. Patrick's Day weekend, Tiago's will toast the Irish with a great assortment of drink specials," said Tiago's President Matt Charbonneau.
(PRWEB) March 06, 2013
The luck of the Irish is flowing at Tiago's Cabo Grille, as they are featuring a new, limited time cocktail called the "Skinny Leprechaun," available March 1 through March 31.
The "Skinny Leprechaun" features tequila, Jameson's Irish Whiskey, fresh lime juice and agave nectar that is shaken, poured over ice and topped with Midori, a melon liqueur with a sweet, fruity taste, making the cocktail a perfect balance of sweet and sour. It will retail for $6.95 and $5.95 during Happy Hour.
Go to http://www.tiagoscabogrille.com to download a coupon for their St. Patrick's Day Weekend specials. The list includes $1.99 Domestic Longnecks, $4.99 Cabo Gold Margarita's and $4.99 Skinny Leprechauns, all day Saturday, March 16 and Sunday, March 17. To redeem, a mobile or printed coupon is required.
Tiago's Cabo Grille has a lively Happy Hour, Monday through Friday from 2 p.m. - 6:30 p.m., and offers domestic beer for $1.99; premium/imported beer for $2.59; handmade Sangria and wine by-the-glass for $3.99, and Mojitos and hand-shaken Margaritas starting at $4.99.
With two convenient San Antonio locations, visit Tiago's Cabo Grille at The Rim, between Bass Pro Shop and the Palladium, (17711 IH10 West #101) or at The Shops at Hwy 151, located at Loop 410 at Hwy 151 (8403 State Hwy 151 #101).
The restaurant is known for mouthwatering fire-grilled meats, seafood and fresh vegetables like those served around Cabo San Lucas, Mexico. Tiago's Cabo Grille and Sea Island Shrimp House and are restaurant brands of Sea Island Development Company, headquartered in San Antonio, Texas. For more information, please visit http://www.tiagoscabogrille.com and Like them on Facebook.
About the company:
Tiago's Cabo Grille opened in San Antonio in 2007 and is part of the Sea Island Shrimp House Restaurant Group. Tiago's features wood-fire grilled specialties inspired by the flavors of Cabo San Lucas, Mexico. For more information on their menu, seafood specials, and kids meals, visit their website at http://www.tiagoscabogrille.com Sea Island Shrimp House information can be found at http://www.shrimphouse.com