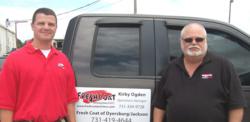 We don't use subcontractors, so when you hire us, you're not going to see a truck from another company pulling into your driveway. You'll know who is coming into your home.
Cincinnati, Ohio (PRWEB) June 13, 2012
Fresh Coat Painters' expansion into Tennessee is continuing with the launch of Chris Hurt's franchise to serve the communities of Dyersburg, Jackson, Ripley, Covington, Alamo, Halls and their surrounding communities.
For Hurt, the franchise offered an opportunity to create jobs in his hometown while providing more security for himself and his family. The Halls, Tenn., native attended college in Jackson, then returned to Halls where he now works as a physical education teacher and head football coach for the high school.
"I love teaching and coaching," he said. "At the same time, I have three children. The reality is that as a teacher, you basically need another source of income to provide for your family's future."
After evaluating various franchises, Hurt said Fresh Coat best fit his goals – a reliable income stream for himself, job opportunities for others, and quality needed services for the community.
"People are always remodeling and fixing up their homes," he said. "Finding a quality painter is difficult. I'm the third generation to live in my home, and we recently remodeled to expand the master bathroom, add a walk-in closet, and such. It was a good bit of work, but when it came time to paint, my contractor had no one to recommend. His guys could do it, but they didn't necessarily want that job. And, I didn't want to do it either. I've learned that a lot of other people had similar experiences. If you can find a painter, they're not available for weeks. Or, if you find one who is available, they may not be reliable. It's frustrating."
Among the factors that drew Hurt to Fresh Coat was its commitment to clients.
"We provide a straight quote, including paint, and we tell the client exactly when we'll arrive and how long the job will take," Hurt said. "We hire our employees, who are bonded and insured, and we provide workers' compensation. We don't use subcontractors, so when you hire us, you're not going to see a truck from another company pulling into your driveway. You'll know who is coming into your home. I think that level of professionalism is something people are willing to pay to get."
Bernie Brozek, president of Fresh Coat, said the company's business model does focus on the client and providing the best service possible.
"Like our other owners, Chris understands that client service begins from the first phone call throughout the project and into the follow-through," he said. "Our structure is such that our owners promote and grow the business while the client service managers and painters do outstanding work on time and on budget. Clients get the best of everyone involved."
Hurt also has found that painters appreciate the potential for steady employment complete with benefits. His first hire, Kirby Ogden, a former project manager for a major construction company, is heading up the team, which includes three painters thus far, all with at least 15 years experience.
Ogden said reliability is the biggest complaint he hears from those who use painters.
"I've talked with Realtors, builders, bankers, and others who work in and around home and building construction," he said. "One of the first questions I ask them is 'Does your painter show up on time?' You'd be amazed how quickly that question leads to comments about no-shows, early departures or unfinished work. With Fresh Coat, I'm hoping we'll get the chance to quote on every job, provide excellent service, grow our reputation, gain referrals and keep our employees working.
"Right now, people are not building new houses as much as they're repairing and upgrading what they've got. I think the potential is excellent for us to hire even more painters, keep them busy, and add more management people and office staff down the road."
Hurt mirrored Ogden's comments, noting that being part of the Fresh Coat franchise system allows him to offer various options for clients that might not otherwise be available.
Brozek said the company prides itself on being able to help owners help their clients. "We strive to complement our owners' inherent abilities with quality marketing, training and resource materials, and provide them with access to excellent client service opportunities including our 24/7 call center, proprietary EPIC estimating system, Paint Now-Pay Later same-as-cash financing, Automatic Touch-Up for businesses, and fund-raising opportunities for charities."
As a teacher, Hurt said he welcomes the chance to offer the fund-raising option for the school and other organizations in the community.
"We anticipate that referrals will be a big part of our business," Hurt said. "And I know that lots of groups need to raise funds. With our referral plan, $50 goes toward the program of the client's choice. I think that will be huge. And like most business owners, if I'm making money, I'm happy to give back to my community."
To learn more or to schedule a free, on-site quote for residential or commercial projects in Dyersburg, Jackson, Ripley, Covington, Alamo, Halls and their surrounding West Tennessee communities, call 731-419-4644 or visit http://www.freshcoatdyersburgjackson.com.
Founded in 2004 in Cincinnati, Ohio, Fresh Coat Painters provides services for residential, commercial and governmental customers in more than 100 major cities across the United States and Canada. Fresh Coat is part of the International Franchise Association, the Small Business Association's Franchise Registry, VetFran and Minority Fran. For more information, call 866-708-9355 or visit http://www.freshcoatpaintersfranchise.com.