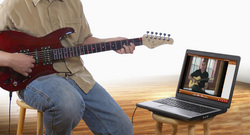 Just as Guitar Hero and Rockband have inspired a generation of kids to pretend to play guitar, this technology represents a significant advancement for anyone wishing to learn to play a real guitar
Reno, NV (PRWEB) October 22, 2008
Musical instrument manufacturer and software developer, Optek Music Systems (http://www.fretlight.com), today unveiled revolutionary video technology for quickly learning how to play the guitar or advancing one's existing skills. The Fretlight Video Player for the PC enables the company's Fretlight™ guitars, which have lighted fretboards, to be powered by video lessons. The Fretlight Video Player triggers the Fretlight guitar's onboard-lighted learning system with interactive lessons and other music and video content. Every Fretlight guitar now ships with a selection of free beginner, intermediate and advanced video lessons specifically designed for the Fretlight Video Player.
With the Fretlight Video Player, guitar players will now get their very own teacher at their disposal 24 hours a day, 7 days a week. Whatever the teacher plays on his guitar in the video instantly appears in real-time on the student's Fretlight guitar. Optek's patented Intellitempo™ technology allows the video instruction to be slowed down by the user without changing the pitch of the audio tracks.
"Most people today are visual learners," said Rusty Shaffer, President & CEO of Optek. "There are thousands of guitar videos on YouTube and other web sites, not to mention video games like Guitar Hero and Rock Band that people are trying to mimic. However, these videos and the toy instruments that come with the video games, do little to accelerate the learning process because finger placement is the biggest hurdle that individuals face when learning to play guitar. The Fretlight Video Player solves this problem because the teacher on the screen is literally triggering the guitar in your hands. It's almost as if the teacher is reaching through the computer, grabbing your fingers and placing them in the right place. It's truly a breakthrough for guitar education."
Unlike Guitar Hero and Rockband, which utilizes plastic guitar-shaped toys, the Fretlight guitar is a real six-string wooden instrument that is played and sounds like any other electric or acoustic guitar. Optek sells a wide range of Fretlight guitar models at varying price points for beginner, intermediate and advanced level guitar players. With the ability to learn and create music at the individual's pace, the Fretlight interactive guitar learning system represents a significant advancement in the guitar industry.
Optek sees the Fretlight Video Player technology as a tool that allows virtually anyone with a little desire to learn to play guitar. "Just as Guitar Hero and Rockband have inspired a generation of kids to pretend to play guitar, this technology represents a significant advancement for anyone wishing to learn to play a real guitar," says Shaffer.
A 30-day free trial of the Fretlight Video Player for the PC, together with Optek's Beginner 101 and Beginner 102 guitar courses and samples of intermediate and advanced guitar lessons, ships with every Fretlight guitar. After 30 days, the Fretlight Video Player can be purchased for $29.95 at http://www.fretlightstore.com. Optek's entire library of Fretlight Ready™ interactive video lessons can also be found at http://www.fretlightstore.com. To download or for more information, visit http://fretlight.com/Software/fvp.html. The Fretlight Video Player for Mac will be released in early 2009.
About Optek Music Systems, Inc.:
Founded in 1988 and headquartered in Reno, NV, Optek Music Systems, Inc. is a privately held music education company whose products are available via its web site and through music retailers and distributors throughout the world. Thousands of users have experienced the educational power of Optek and its products. Optek has many U.S. and international patents as well as patents pending for interactive guitar learning systems and musical instrument manufacturing designs. For more information, visit http://www.fretlight.com or call (800) 575-6511.
Press Contact: Carol Arnold, (877) 718-4604 x2, carnold @ fretlight.com.
###