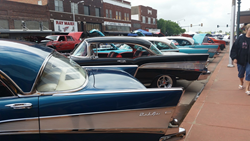 DUNCAN, Okla. (PRWEB) March 04, 2019
Friday Night Car Cruises on Main Street
'Cruising Downtown Duncan'
On March 22nd, the Main Street Duncan organization will begin the Friday Night Car Cruises in downtown Duncan, after the Duncan Swap Meet, from 5-10 PM.
The Main Street organization in Duncan, Oklahoma hosts car cruises throughout the year to be able to assist the downtown business owners through programs such as Team Up to Clean Up, the signage grant, and others. The first cruise is always in March in conjunction with Stephens County's largest swap meet –The Duncan Swap Meet. Event directors from Main Street Duncan, Inc. and the Duncan Swap Meet coordinate on this event since both appeals to so many car enthusiasts in one location at one time. According to the Main Street Duncan office, over 200 participants attended the March car cruise in 2018, mostly due to the Duncan Swap Meet's long running and widely known meet.
"Hosting this event in conjunction with the swap meet has been a smart move for Main Street," said Duncan Swap Meet Coordinator, Kevin Hammack, "it's been a win, win."
The Main Street Duncan merchants will keep the stores open late, offering specials, and some will have door prizes. The Palace Theater will show a movie; Boomarang will offer an all-you-can-eat catfish basket special till 9 PM. A variety of food trucks will be on-site for something for everyone to enjoy. Both Wall Street and the Company Men bar and lounge will offer specials after the cruise has concluded. Additionally, some of the Main Street merchants will offer sidewalk sales and offer in-store specials for those shopping.
"Car enthusiasts and admirers enjoy the cruises downtown," said Main Street Duncan Promotion Chairperson, Kristen Arrington "and the variety of cars, trucks, and motorcycles is quite a display."
To register for the car cruise, please bring proof of liability insurance and a valid driver's license the northwest parking lot of 10th and Main Street. Registration is $10 per vehicle. Only street legal and registered vehicles will be allowed to cruise. No burnouts will be offered at this cruise. The March cruise route runs from 7th Street to 10th Street on Main and Walnut. Designated car club parking is available upon request by calling the Main Street Duncan office at 580.252.8696.
Main Street Duncan is a 501(c)3 charity and all donations are fully tax-deductible to the extent of federal and state tax laws; the program has been affiliated with the Oklahoma Main Street Center and nationally accredited through the National Trust for Historical Preservation since 1986.