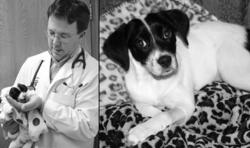 "How is veterinary medicine to advance - if the skilled, do not seek to confront the unknown?"
Fort Worth, Texas (PRWEB) March 16, 2013
A plea for help on a Facebook fan page in December inspired an immediate 1700 mile journey - across 7 states, involving several volunteers... to bring the, then 17 day old Labrador mix puppy, to a rescuer in Texas for care and treatment.
Elizabeth Hart of Friends Of Emma - a Fort Worth, TX animal rescue program, is desperately reaching out in an effort to extend the search for a medical resolve for, now 4 month old "Oakley", who is said to have essentially "no chance of survival".
"I've been told by numerous specialists that there is 'absolutely nothing' they can do to help her. I'm not willing to accept that just yet", states Hart - of Fort Worth.
Ms. Hart has taken in rescue animals for more than 20 years, specializing in the hand rearing of orphan newborns and care of special needs animals. Her rescue of Emma, a tiny Chihuahua born with a cleft palate and craniofacial deformities back in 2008, received national attention and led Hart to broaden her circle, accessing the internet for wide spread support of some "hard cases"… little Oakley's condition, is one such case.
Oakley's formal diagnosis reads as follows:
Congenital malformation of the urinary system in conjunction with anal agenesis, ectopic ureters.
(This is some form of previously undescribed, bladder extrophy in combination with the formation of a cloacal opening, craniad to the external genitalia.) Megacolon.
"I can't even tell you what all of that means", relays Hart – "I'm obviously not a Veterinarian. Her condition is complex and critical, but we're not 'keeping Oakley alive', she's doing that all on her own. I'm just trying to help her to live better. I'm not an unreasonable person and I can see when all options have been exhausted... We're just not there yet with Oakley… SHE'S not there yet."
Not everyone has been supportive of the efforts to sustain the little Lab pup, though with more than 17,000 Facebook followers, it's assured that the plea is being heard – but can the answers be found?
Hart continues, "My job - is to give Oakley a 'good quality of life'.... physical and emotional enrichment, mental stimulation, stability, meeting daily needs and care. The job of the veterinary professionals is to address the medical issues governing that.... how that can be done - I don't know yet... but it's a matter of medical science and the resolve for Oakley IS out there - we just have to start thinking 'outside the box'."
"When you look at Oakley's photos and videos", Hart tells us, "you won't find a sickly pup there, wallowing about in pain... you'll see a vibrant, thriving, seemingly healthy, content little dog... reaching all of her milestones and enjoying her (somewhat sheltered) world."
Hart has been told that the complexity of Oakley's combined conditions has never before been documented in veterinary medicine. Those with whom she has been in contact state that 'Because of the multiple major organs involved, there are no viable surgical options to give Oakley any kind of quality of life'.
Hart persists, "How is veterinary medicine to advance - if the skilled, do not seek to confront the unknown?"
Continuing on, Hart says "The outpouring of love and support from our online community has kept us going... not just with Oakley, but with all of our rescues. We couldn't get through a day without them. Time and time again, steady friends - and complete strangers... they've been there at every call to help save a life! We are blessed to be at the core of such an exceptional and powerful support system. We love and genuinely appreciate each and every one."
In a final thought, Hart insists, "I'll keep reaching out and continue searching for answers. The door to a higher learning and inspired possibilities is open here, while there are few who are willing to walk through... somewhere, there is one... and that's all Oakley needs."
Veterinary professionals and those in the field are encouraged to contact with any assistance.