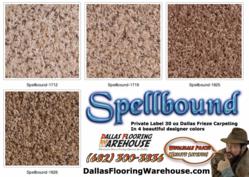 Dallas, TX (PRWEB) March 11, 2013
Dallas Flooring Warehouse launched the Spellbound Frieze Carpet Sale Monday, March 11, 2013 at 10AM with 30 oz. frieze carpeting at wholesale direct pricing to the public. Spellbound is available in four beautiful colors. Dallas Flooring Warehouse is offering this quality frieze carpet at a savings of 50% off retail. Spellbound features a 10-year warranty, a lifetime stain warranty, premium PET fiber and advanced static control. Beginning March 11, 2013 it will be available to the public for $.79 per square foot. It is also available for $1.22 per square foot installed with pad.
"The Spellbound Frieze Carpet Dallas Sale begins today March 11, 2013 at 10AM. Call us at 682-300-3836 to get in on the savings! This 30oz frieze is an amazing value. It is durable, has a lifetime stain warranty and a 10-year warranty as well!", says Christopher Oliver, Dallas Flooring Warehouse spokesman.
Dallas Flooring Warehouse provides wholesale direct pricing to the public on flooring including carpeting, solid hardwood floors, wood laminate flooring, waterproof vinyl plank, and hardwood flooring. They also carry a huge selection of tile, travertine, granite countertops, backsplash material and much more. The are the leading flooring discounters in the Dallas-Fort Worth Metroplex with a massive multimillion dollar on-site inventory and wholesale direct pricing they are dedicated to providing Dallas-Fort Worth residents with the best flooring products at the lowest possible prices. Their address is Dallas Flooring Warehouse 8717 Directors Row Dallas, TX 75247. For more information about Dallas flooring warehouse visit their website at dallasflooringwarehouse.com.