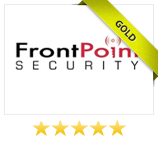 FrontPoint Security has once again earned a top spot in our rankings and the company is continuing to show impressive growth, dedication, and excellence in the industry.
Philadephia, PA (PRWEB) March 18, 2013
The home alarm experts at Alarm System Report announced today that they have completed their annual 2013 alarm system company review and rating process. The annual rankings—in best overall, best DIY, best cellular monitoring, and best wireless alarm system—have become nationally recognized as one of the leading web sites in the home security and alarm space.
Alarm System Report hired a group of independent consultants and industry experts to form a review panel for this year's home security alarm system reviews. These experts examined all of the nation's security companies and ranked each one accordingly, finally making a determination of what the best alarm system for the home is. Staff writers for Alarm System Report then took all of their research, ratings, and other information and produced the in depth alarm company reviews featured on AlarmSystemReport.com.
Companies that made the final cut for inclusion in this year's ranking of top home alarm systems companies include ADT, Front Point Security, LifeShield Home Security, Protect America, and Vivint. To be included in the final review process, companies had to meet a variety of requirements, including national coverage, sales numbers, minimum Better Business Bureau ranking, and a variety of particular service and technical specifications and requirements.
"All of the alarm and security companies included in our annual ranking process are invariably reputable companies that provide a tremendous amount of value to their customers and a real world class product and service," said Steve Ordona, head of public relations at Alarm System Report. "For decades, the home alarm system stagnated, offering the same type of traditional phone line monitoring service with the same sort of control panels, window and door sensors, and monitoring services. Now, suddenly, we have additional features like completely wireless systems, flood and carbon monoxide sensors (among other things), smart home automation appliances, remote access and control smart phone apps, and a whole lot more."
Despite all of the advances many alarm system companies have made, FrontPoint Security once again landed at the top of the overall best alarm company rankings. For the second year in a row, a panel of industry experts determined that the Virginia based company offered the best mix of affordable pricing, reliable equipment, technological innovation, customer service, technical support, and overall value to the customer.
For more information about the annual alarm system rankings, to read the entire FrontPoint Security review, or to find out more about the home alarm system in general—including several news items, industry happenings, and tips and recommendations from home security experts—interest readers should point their web browser at AlarmSystemReport.com. The web site is completely free and hosts all of Alarm System Report's consumer reviews and other content.
About AlarmSystemReport.com
Alarm System Report, a nationally renowned consumer information and product review company that maintains one of the Internet's top home alarm system review web sites, strives to provide consumers, homeowners, and potential alarm system shoppers all of the most reliable, accurate, and timely information on the home alarm and security market.