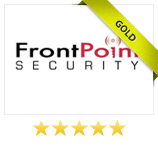 Our home security experts have been following FrontPoint Security for years and have been impressed by their dominance in the DIY security system industry.
Birmingham, AL (PRWEB) May 20, 2013
One of the more frequent endeavors of the site SecuritySystemReviews.com is to rank various products and service providers. After a thorough analysis of highly rated security systems available in the market today, the different content contributors have decided that Front Point Security is this year's best overall home security system company.
Homeowners can be sure that the wireless alarm systems review presented at the site is accurate and up to date. To guarantee reliability, veteran professionals from the home alarm and security industry are the ones to actually make the evaluations. This is no simple customer review site. What consumers will receive is a balanced and in-depth evaluation of product features and specifications. It is important to know the essential differences between wired and wireless alarms. But it is just as equally vital to understand why one might be more beneficial than the other. Who would be better at putting together such recommendations than home security experts?
FrontPoint Security is known for its implementation of cellular alarm system technology. They primarily offer a broad range of wireless alarm equipment and cellular monitoring methods. This type of home security system enables communication between the different components without depending on physical lines. This makes the whole set up harder to tamper with and ensures warning signals are still transmitted and appropriate response measures are activated.
Another advantage of this type of alarm system is potential scalability. It is much easier to integrate additional components such as sensors and motion detectors at a later stage. There are also DIY alarm system products offered by the company. Lately such systems are increasing in popularity as they can lower the costs involved in installation. One of the particular features highlighted by the review is how the company bundles their products into several packages. This method can lower barriers to entry for homeowners because they also minimize initial expenditures. A home alarm and security system doesn't have to be expensive in order to be dependable.
Smart homeowners know that part and parcel of the planning process regarding significant home-related improvements is to do some thorough comparison shopping. Security System Reviews strives to make ones options easier to understand by providing free and reliable information regarding the multitude of products and services in this area. Homeowners no longer have to canvass various online and other sources just to compare alarm systems and figure out which one best fits ones needs. Homeownes can get all the necessary information in just one venue.
About SecuritySystemReviews.com
SecuritySystemReviews.com is your primary online resource for news, product updates, and reviews regarding home alarm and security systems. The best way to protect ones home is to find the right security solution that fits ones requirements. With the current and accurate information provided by the site, homeowners can better understand the viable options and make better decisions.