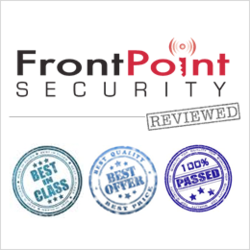 Frequently updating our security system reviews allows our visitors to get the most accurate information possible.
Atlanta, GA (PRWEB) March 25, 2013
FrontPoint Security has proven to be leading company when it comes to providing high quality wireless home security system. To provide consumers a complete idea about this home security firm; experts at SecuritySystemReviews.com have just released an updated review of the FrontPoint Security Systems. In this comprehensive review, SecuritySystemReviews.com discusses aspects of FrontPoint's home security solutions. These aspects include equipment, security monitoring, upfront costs, home automation, installation, customer service.
SecuritySystemReviews.com also provides a detailed company overview for FrontPoint Security, and discusses the key features that make the company's home security systems stand out from competition. Aside from being licensed in all 50 states and Canada, FrontPoint Security is known for their excellent customer service, which is proven consistent even after system sales and activation. SecuritySystemReviews.com reports that FrontPoint garnered an "A" rating with Better Business Bureau, as well as positive ratings with other third party online review entities such as Angie's List and Yelp.
According to SecuritySystemReviews.com, FrontPoint home security system company maintains a strong relationship with General Electric home security division. The latter being the exclusive manufacturer of FrontPoint's wireless home security equipment. Aside from a wide variety of alarm devices, home automation devices and security camera, FrontPoint also makes use of the Simon XT, a state-of-the art control panel that can manage up to 40 individual alarm sensors.
In the aspect of security monitoring, experts from SecuritySystemReviews.com regard FrontPoint Security as one of the best. The company implements a 100% cellular monitoring technology, considered to be the most reliable and safest method for monitoring alarm systems today. Such technology does not depend on phone lines and internet connection to operate. FrontPoint Security's products are do-it-yourself security systems, which empowers homeowners to conduct the installations themselves to cut back on installation costs.
Aside from offering pre-made security packages, the company also allows homeowners certainly customizations to address their specific needs. Customers can configure their own security package on the company's online store or arrange it with a security consultant on the phone.
One disadvantage of purchasing FrontPoint home security systems, as cited by SecuritySystemReviews.com, is its limited warranty. At the moment the company still provides a standard two year manufacturer warranty on all equipment. However, it does offer a lifetime warranty on rechargeable backup battery used in the system. By industry standards the up-front cost for a FrontPoint Security system is quite reasonable. The costs are usually based on the number of equipment to be used. The company also offers varying discounts dependent on the length of contract. FrontPoint Security rewards its loyal customers by providing the best value and discounts to a three year contract.
About AlarmSystemReport.com
As a premier review website for home alarm systems, AlarmSystemReport.com prides itself with having a team of security system experts, who are committed in creating extensive reviews of the best alarm system products and solutions. The reviews and recommendations published on the website hope to assist consumers in deciding the best possible home security solutions to address their needs.