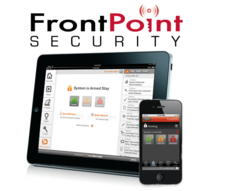 ...FrontPoint has an established reputation and a proven track record...
Chicago, IL (PRWEB) November 18, 2012
HomeSecuritySystems HQ, the leading online security reviewer compares FrontPoint Security with the compeition in the industry. The huge variety of home security systems available today means that there is a great deal more selection and it isn't necessary to go with the big companies in the market like ADT.
So, when buying a new home security system, the best thing to do is get on the Internet and start checking out which companies stand highest in customer satisfaction.
A quick surf of the net shows that ADT scores quite low in customer satisfaction with only 2 to 2.5 stars on many different review sites, including Yelp, the most trusted review site online. This is pretty amazing from companies that are supposed to be the biggest and the best. Past a certain point, customer service just seems to go downhill.
So where are those lost customers going?
Many are going to FrontPoint. FrontPoint has an established reputation and a proven track record and consistently receive 4 to 5 stars in online reviews and excellent testimonials for their home security systems. Many people are switching to FrontPoint also because of their excellent customer support, which has earned much critical acclaim and prestigious awards such as the Angie's List Super Service Award in 2010.
FrontPoint has also received an 'A' grade with the BBB (Better Business Bureau). To become accredited with the BBB it is necessary to meet a strict set of standards and FrontPoint has met these and more.
FrontPoint offers an excellent range of wireless alarm systems by GE Security (that do not require expensive professional installation). The control panel, the GE Simon XT, features a patented Crash & Smash technology that provides an extra layer of security by sending an alarm to the authorites before a burglar can cause damage to the control panel and subsequently disable the entire system.
In addition to wireless equipment, FrontPoint provides state of the art cellular monitoring across all packages and enironmental monitoring from fire, smoke, carbon monoxide and flooding. Cellular monitoring includes smartphone support (iPhone, Android, Blackberry) for live video monitoring, intstant security text alerts and remote arming and disarming. A light automation option is also available whereby customers can remotely turn on indoor and outdoor lights!
FrontPoint Security also happens to be the only company to provide customers with a 30 day money back guarantee. Customers can return their systems within 30 days and get a full refund, no question asked. FrontPoint doesn't lock in any of their customers without room for cancellation. Once the system has been activated by FrontPoint, customers get ample time to make up their minds about whether they want to keep the system or not.
Interested parties and individuals can contact FrontPoint Security and get an instant quote right here. Orders are shipped the same day via FedEx for fast and free shipping. They can also be reached at (866) 363 2035.