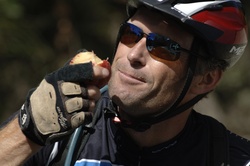 Scientific evidence already suggests that complex carbohydrates, antioxidants and vitamins are of significant benefit during intense exercise
AUCKLAND, New Zealand (PRWEB) March 13, 2008
Kieran Elborough, PhD, Business Leader for Flavour Biotechnologies, Health and Food at HortResearch, is presenting these new research findings at Nutracon 2008 in Anaheim, California on Thursday, March 13, 2008.
"Scientific evidence already suggests that complex carbohydrates, antioxidants and vitamins are of significant benefit during intense exercise," said Dr Elborough, "Fruit and fruit-based ingredients can deliver these performance factors in their most natural forms. We are conducting clinical trials of fruit extracts in elite athletes, measuring markers of oxidative stress, and have so far identified three strong hits as we continue to screen for more. We are actively seeking industry partners to take advantage of the growing sports market demand for convenient, tasty, healthy products by leveraging the unique properties of fruit."
Using biosensors to detect key biomarkers in saliva, HortResearch can now non-invasively monitor athletes' adaptive hormonal responses to exercise in real time. Using this information, HortResearch scientists are elucidating the short and long-term physiological impact of fruit and fruit components on specific biological targets relating to sports performance and recovery.
Sports consumers have a multi-billion dollar appetite for sports performance and nutrition products. Sports drinks alone were a US$4 billion market segment in 2006, growing by 11.6% per year. But many current products contain high-fructose corn syrup and other refined sweeteners, as well as artificial colors and flavors, despite increasing customer preference for healthier, organic and more sustainable ingredients.
While fruit has already successfully entered the health, wellness and functional food markets, fruit is underexploited in the sports performance and recovery nutrition market segment. Given accelerating food megatrends around tasty, sustainable and exotic, there is tremendous opportunity for natural fruit products within the rapidly growing sports and nutrition market.
Photos are available through this link or upon request. (Special thanks to ORCA, a global triathlon wetsuit and apparel brand, who donated the clothes in the photos.)
About HortResearch
HortResearch is a New Zealand-based science company, acknowledged as a world leader in integrated fruit research using unique resources in fruit, plants and sustainable production systems to provide novel technologies, innovative fruit and food products with high consumer appeal.
Home to an extensive fruit compound databases, as well as leading-edge scientific capability in plant breeding, tree, vine and fruit physiology, HortResearch has earned considerable acclaim as the name behind development of ZESPRI(TM) GOLD Kiwifruit, ENZA JAZZ(TM) brand apples and a range of other successful cultivars including blueberries, peaches and pears. The company also enjoys further praise as the research team behind the development of the world's first intelligent fruit labelling system, ripeSense(TM) marketed by RIPESENSE Limited.
HortResearch is now broadening its commercial science capability, utilising knowledge in phytochemicals, food chemistry, sensory, biochemistry, and plant molecular biology to find new ways to improve human health, wellbeing and performance.
The company is developing breakthrough science and technology to meet emerging markets for functional foods and naturally produced flavours and fragrances. Key food research areas include: Foods for Health, Human Health and Performance, Nutrigenomics, Formulation and Delivery, Bioproduction and Sensory and Consumer Science.
Working closely with industry, HortResearch seeks to identify the intrinsic benefits found within foods, and determine how these can be enhanced or extracted and delivered to consumers in a safe, tasty and convenient way. Integrating fruit and food research with consumer insight and market knowledge, HortResearch produces new concepts and prototypes that meet consumer demand for healthy, novel and convenient fruit and fruit-based foods and beverages.