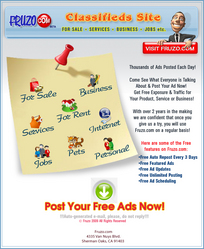 . "People just don't feel safe replying to an ad they just saw on a classified site any longer, it almost feels like a gamble"
Los Angeles, CA (PRWEB) January 14, 2010
The market may not be ready for another classifieds site, with giants such as Craigslist and eBay dominating a rapidly growing market. But because of the growing problem of online scams and spam consumer discontent has been growing, so a small team of overzealous developers have put together a site to directly confront the problems that are all to common among these classifieds giants. They refer to it as the classified site for the people, Fruzo.com. The site, developed to combat the ills and restrictions posed by current market leaders, aims to provide simple, safe, and feature rich tools for the millions of Americans who use online classifieds every day.
There are many features that have been added to improve the experience and safety for both the ad poster and ad surfer. Made with both in mind the site has features such as a built in messaging system with advanced Spam filters.
One of the key differences with Fruzo.com is that it's only made for United States. It is not accessible by other countries thus reducing the number of scams and spam opportunists and increases the safety and security for its users. Fruzo.com also allows users (Fruzers) to communicate with one another using the messaging features built directly into the site, and not requiring either party to reveal their email address or other sensitive contact information, which can be gathered by would-be scammers/spammers. This has become a leading cause of complaints by regular classifieds users. "People just don't feel safe replying to an ad they just saw on a classified site any longer, it almost feels like a gamble", says founder Richard Fox. "Am I going to have my email flooded with a tons of spam or get one of those awful scam attempts offering me a portion of some prime minister's $20 million dollar estate."
For the ad posters the site has features that should make life a little easier. With features such as free automatic ad renewals after 3 days, the poster by simply checking a box will have their ad automatically renew as if it was a brand new ad. If you post ads you are also provided with a user control panel where you can manage, renew, feature, deactivate and reactive your ad for up to a year, thus never having to rewrite that perfect ad ever again. The big one however is their "Nationwide Ad" option. There are many products and services that can be provided nationwide and now a small vendor in a small town can advertise their product all over the US with a simple click of the mouse.
For the ad surfer Fruzo.com allows faster searches by allowing search of multiple locations and multiple categories at the same time. The restriction of searching a single location/category is time consuming and not effective. You can Search Fruzo.com based on multiple locations (with Nationwide search) and multiple categories, or you can search locally within a specific category. Once you find what you are looking for you can then decide to reply to the ad, or first checkout the poster and the reviews and ratings they have received from other Fruzers. If you wish to save it for later, forward it to your friends in your email list or share it with your social network buddies on Twitter, Facebook and Blogger, well you can do that too.
"Fruzo was made with the user in mind," said co-founder Jacob Matian. Commenting on the launch, "I'm most proud of the fact that users have responded very positively by sharing their feedback and suggestions with us, the people have spoken and we have listened."
About Fruzo.com - Fruzo is a feature rich classifieds site in which you may post ads, navigate easily, build a network, and lots more. Fruzo.com sought to create a user friendly and responsive classifieds on the Internet to reduce the amount of time and confusion it takes in doing business online. Fruzo's goal is to create an environment for people to gather, socialize and do business - with features that are remarkably simple, fast, and safe - while still having fun.
###