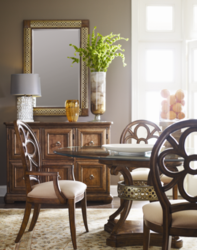 Toronto, Ontario (PRWEB) March 06, 2013
Decorium is a highly regarded name in the local Toronto home furnishing industry. The company's flagship furniture store, measuring over 100,000 square feet, has served the GTA for three generations in its current location north of the city on Supertest Road.
Building on that success, the company has designed and opened a new home furniture shop located at 1212 Yonge, in the heart of the fashionable Rosedale shopping area of downtown Toronto. At just 9,000 square feet, the new showroom location aims to deliver a boutique showcase experience suitable for the Rosedale neighbourhood, while still maintaining high standards of service and selection.
"Decorium on Yonge will allow us to showcase our unique fashion sense with great values to a new audience in a more quaint setting," explains Decorium CEO Steve Forberg. Despite the smaller size, the new store will carry a full selection of home furnishings, upholstery, lighting, area rugs, home accents and more.
Decorium (363 Supertest Road) has been a fashion leader in the Toronto home furnishing market since 1986. The company was founded to cater to the design trade and was opened to the public in 1992 due to consumer demand.
FS Local is a fun new directory based in Toronto, Ontario, that provides marketing, advertising and consulting services for small businesses, with focus on local social media web marketing solutions. Decorium is a proud member of the FS Local Toronto business community.