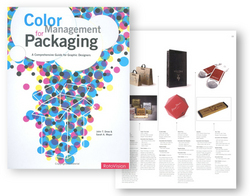 Fuelhaus looks at every project as a unique chance to do something fresh and innovative for our client. Being asked to be included in Rotovision's book was flattering, and a cool way to feel validation for the passion our designers bring to work with them every day
San Diego, CA (PRWEB) April 24, 2008
Fuelhaus brand design agency is proud to announce that it is featured in the new book Color Management for Packaging: A Comprehensive Guide for Graphic Designers, by John T. Drew and Sarah A. Meyer, and published by Rotovision.
The new hardcover collection, available internationally, includes work from 75 design agencies from around the world. Fuelhaus has three projects featured in the book for their excellence in innovative design and printing solutions: Virgil's Fine Soaps one color label designs are highlighted, as well as four-color and special process solutions for clients Deep Herbal and Michael's Cookies.
"Fuelhaus looks at every project as a unique chance to do something fresh and innovative for our client. Being asked to be included in Rotovision's book was flattering, and a cool way to feel validation for the passion our designers bring to work with them every day," says Kellie Schroeder, Fuelhaus Wünderwoman/President. "When design is done right, it's highly collaborative. Rotovision's book is a part of that process...elevating the profession by sharing great ideas. We're proud to be a part of a book that we'd have on our shelves for inspiration."
Fuelhaus Brand Strategy and Design is a San Diego, California based high-end graphic design agency specializing in brand development for print, package, web and interactive design. Founded in 1994, Fuelhaus works with an international client base of mid-to-large scale youth and a consumer based companies.
Website and Portfolio: http://www.fuelhaus.com
Fuelhaus Blog: http://skooloffresh.blogspot.com
###