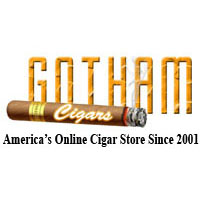 Gotham, America's leading online cigar store, sells major machine-made cigars, humidors and cigar samplers at unbelievable prices
Miami, FL (PRWEB) November 27, 2012
Gotham Cigar presents a buy 1 get 1 offer on Hav-a-Tampa Jewels Regular Cigars that use Honduran and Dominican tobaccos as their primary fillers, giving them an excellent aroma and mild taste. These cigars have become the world's best-selling wood-tip cigars since their introduction in 1902. Available in 20 packs of 5, the Hav-a-Tampa Jewels Regular Cigars are offered here for only $42.99.
Gotham Cigars gives every cigar lover the opportunity to buy their favorite brand at the very best prices on the market. Gotham Cigars is continually updating their prices, so customers always know they are getting the best prices available on flavored and machine made cigars. Gotham is always working to offer their customers one of the largest collections of high quality cigars in the country. These cigars are in stock at the Gotham facility and are ready to be shipped at anytime.
Gotham, America's leading online cigar store, sells major machine-made cigars, humidors and cigar samplers at unbelievable prices. All major brand name sticks, humidors, and samplers are available here. A large selection of brands includes Arturo Fuente Cigars, Gurkha, Rocky Patel, AVO, Cohiba, ACID, CAO and many more. This online cigar store is rated highly by trusted online comparison websites for its huge selection of premium and domestic brands, fast shipping, and great customer service. No matter what a customer's price range may be, they have something to match both their taste and budget.
Gotham Cigars has been America's online cigar store since 2001. They offer a massive inventory of superior traditional cigars, affordable flavored cigars, highly ranked sticks from Cigar Aficionado, and daily deals that lets customers try some of the best cigars on the market at rock bottom prices. All of their cigars have been thoroughly inspected by their manufacturers prior to arriving at the facility. To know more about the daily deals log on to http://www.gothamcigars.com