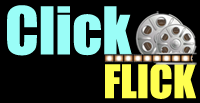 Watching movies via Click Flick is remarkably easy. Once you've set up an account, simply search for the film you want to see on the Click Flick website and click the play button.
New Canaan, Connecticut (PRWEB) March 20, 2013
Watching movies should be about enjoying the experience, but not many streaming services can deliver this kind of customer service. Click Flick promises to make movie streaming a breeze - a wide selection of movies, zero restrictions and unlimited viewings per month – all for $5.99. Viewers, who opt out of the monthly deal, can still purchase a movie for just $0.99 and watch that movie within a 48 hour time slot.
In appreciation of his customer loyalty, Click Flick's founder Glen Cohen is suggesting 5 comedy movies for comedy movie lovers to watch and enjoy on his site. These movies provide nothing but laughs from beginning to end. Most of the movie titles are comedy, but they also display some real life issues, which make these movies all the more hilarious.
I. American Alien:
This is a hilarious mockumentary directed by Award Winning Punk James director Jeff Cochran about the disappearance of Baron Dixon, a man obsessed with UFOs and extraterrestrials ... because he believes he is an alien himself.
Baron Dixon has been bullied all his whole life. His two best friends - a couple of doped-up, gun loving, outcasts believe in and support Baron. His gorgeous girlfriend wants to believe him too, but Baron is just too wild! Before long, everyone involved will discover why even the most far-fetched tales can sometimes have roots in reality.
II. Halfway House Christmas:
In this spoof of reality television, a prostitute, a rocker, a pothead, a former child star and a burnout, recovering drug and alcohol addicts, try to live in a halfway house together during the holidays. Can they stay clean and sober for Christmas? Or will the network's quest for ratings bring them down? Find out what kind of mischief these people can get themselves into.
III. Rice Girl:
Windy Yee is an unintelligent actress who desperately tries to land a big role in Director Martini's new movie, Hooker X. On the roadmap to stardom, Windy Yee is mistaken by two undercover cops, played by Martin Kove and Ian Lithgow, for a real hooker. They set up a sting operation which backfires and gets the cops whipped by Pat Morita. Windy's adventure continues when she crosses the path of hot Hollywood madam, an Iraqi warlord and chased into an alley by hoodlums, she even ends up in a wrestling match with a 300 lb roaring "Meathead". An excellent comedy the whole family could watch. This movie may not be recommended for anyone under the age of 13!
IV. Almost You:
Alex and Erica Boyer's marriage is in hot water: job and wife bore Alex. When Erica has an accident that has her staying in a wheel chair for some time, it changes their life: Alex meets Erica's young therapy assistant Lisa and gets the idea that she would be able to put an end to his boredom and he could start over with her. However Lisa's boyfriend stands in their way and is not about to let Lisa go.
The cast is great across the board. Alex is no hero, cheating on his wife multiples time throughout the film. Brooke Adams' perpetually downward turned mouth is sexy, but she too is no supermodel. Her bitterness at everyone's blase attitude toward a potentially fatal accident is supreme. Karen Young plays a good role as Lisa; her attraction to Alex never seems unnatural.
You would be attracted to Alex, too, if you put up with Marty Watt's Kevin. Kevin is jealous, acerbic, bitter, but too keen on being an actor instead of dealing with life.
Once in a while, the jokes and dialogue crash instead of working, but the film moves along quickly. There is even a hint of a threesome in the movie and how it unfolds – well viewers will have to wait and see the movie to find out.
V. Copper Mountain:
Two friends, played by Alan Thicke and Jim Carrey, travel to a ski resort where one looks to hit the slopes, while the other spends time trying to pick up women. The movie is a debut film for
Alan Thicke and director/writer Damian Lee. Any fan of Jim Carrey and Alan Thicke will love this cheesy, yet hilariously funny movie.
About Click Flick LLC:
In a nutshell, Click Flick LLC is one of the best collections of premium produced video entertainment on the web! Members get anytime, anywhere access to a database of 3000 films, including Django, Copper Mountain, and True Women. The site hopes to add another 10,000 movies to our database by the end of June.
To use Click Flick, consumers sign up for a subscription on the company's website. For one low monthly price of $5.99, Click Flick members can instantly watch unlimited movies streaming over the Internet to PCs, Macs and TVs via a wide range of devices. Users, who opt out of the monthly package, can purchase the one movie deal for $0.99.