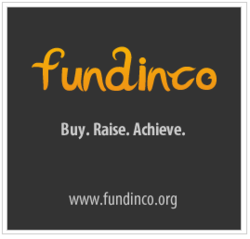 Cincinnati, OH (PRWEB) March 30, 2013
Fundinco.org is excited to introduce new functionality on its free online fundraising platform. After working with The Leukemia and Lymphoma Society – Illinois to develop a team site for their October 2012 Light The Night Walk, Fundinco.org is taking the concept to a much larger scale – and has implemented functionality that allows national and regional non-profit organizations to quickly mobilize a team site – which can be used for charity run/walk events, classroom competitions, or anywhere groups of people are competing against each other to raise money for a cause.
Fundinco.org will be able to customize the look and feel of the non-profit's team site, complete with graphics furnished by the non-profit. In addition, teams will be able to register for Fundinco automatically using a website tailored to the non-profit's upcoming event. Once registered, each team will receive a team page that provides a link to shop on behalf of their team. This page will also feature more information about the upcoming event as well as the total dollar amount that team has raised during the fundraising period.
The non-profit organization sponsoring the event will be able to login through their account and view the teams that have registered on a real-time basis. Furthermore, they will be able to see various statistics on the success of their program – with the ability to export a report into Excel format.
Organizations that have an upcoming team competition that are interested in this new functionality, please reach out directly to Fundinco.org.
Learn more about Fundinco.org's free online fundraiser.
About Fundinco.org
Fundinco.org, owned and operated by Fundinco LLC, is a leader in helping non-profits achieve their fundraising goals through meaningful and creative solutions. The company's core platform allows non-profit organizations to raise funds without asking supporters to reach directly into their wallets. Instead, supporters of an organization simply shop at one of the world's largest online retailers and that organization earns a commission on those purchases. Fundinco.org provides marketing tools and personalized support to its members which has proven to be a key to success for the program.