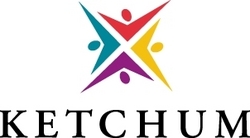 Dallas, TX (Vocus) August 27, 2008
Ketchum, the market leader in fundraising counsel and part of the Viscern family of companies, announces that three Ketchum executives have been promoted into key leadership positions. Sue Acri, CFRE, has been promoted to senior vice president of client services, Kevin Sturtevant, CFRE, was named senior vice president of innovation, and Steve Higgins has been promoted to senior vice president of client development.
These changes reflect Ketchum's continuing commitment to innovation and client satisfaction. Ms. Acri will be responsible for ensuring that every client benefits from the long history and experience of Ketchum's nearly 90 years. Mr. Higgins is charged with a custom-tailored approach to service, one that includes the new Ketchum 360° methodology. In his new role, Mr. Sturtevant will lead efforts to provide innovative solutions tailored specifically to meet the needs of Ketchum clients. All are charged with the expansion of Ketchum's service offerings. Each of these changes will provide Ketchum clients with the successful fundraising counsel they have depended on for decades, while ensuring that they are empowered with the most progressive fundraising tools available.
Sue Acri, CFRE, has been with Ketchum since July 1997 and has more than 20 years of success in capital campaign direction and client service in the nonprofit sector. Prior to joining Ketchum, Ms. Acri served as an independent consultant specializing in strategic planning, capital campaigns, feasibility and planning studies, annual giving, and foundation and corporate giving.
Kevin Sturtevant, CFRE, has served with Ketchum since August 2001 and has more than ten years of experience in development, marketing, and public relations. Before joining Ketchum, Mr. Sturtevant worked for several national organizations, including the Human Rights Campaign and Reading Is Fundamental, Inc. In those positions, he created strategic, integrated corporate fundraising programs, managed teams of development officers, and increased visibility and recognition opportunities for donors.
Mr. Higgins has served with Ketchum since March 2006, and has over 21 years experience with non-profits, sales, and management. Before joining the Ketchum team, Steve served as director of community relations at Saint Edward's School in Vero Beach, Florida; he also spent five years with the Pittsburgh Technology Council, which grew into the nation's largest regional technology association under his leadership as senior vice president of membership services and development.
Ketchum (http://www.Ketchum.Viscern.com ), has helped over 10,000 organizations raise more than $15 billion for education, healthcare, the arts, community support, youth and social services, and religious organizations. Viscern Inc. is the parent company of Ketchum and RSI, two of the most distinguished consulting organizations in philanthropic and faith-based fundraising. Viscern's predecessors date to 1919, when Ketchum was founded, and 1972, when RSI was founded. The firm has expanded its services and its reach over the years, and is the leader in its field. Through its two companies, Viscern is currently working with more than 600 clients seeking to raise more than $5 billion.
Viscern, Inc.
Headquarters:
5151 Belt Line Road, Suite 900
Dallas, Texas 75254
Tel.: 800-242-2161 or (214) 866-7600
Fax: (214) 866-7751
http://www.viscern.com
e-mail: info@viscern.com
Contact:
Paulette Mulry
Assistant Vice President, Ketchum
214-866-7810
pmulry@viscern.com
###