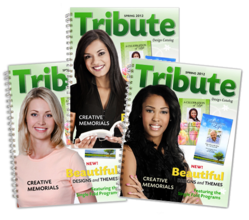 "By offering families beautiful funeral program designs we offer in our glossy magazine catalog, it helps represent a funeral home's business or any business into instant credibility.
San Francisco, CA (PRWEB) January 11, 2013
Funerals are big business in any economy, especially if you're good at it. The Funeral Program Site online company has been servicing the death care industry for over a decade and has proven to be a popular resource for funeral homes, small businesses and bereaved families all across the globe.
This company has just launched a new annual magazine style catalog which is available to every customer who visits the website at FuneralProgram-Site.com. The magazine style catalog, is called "Tribute" and is designed for anyone who wishes to view in hardcopy, the large collection of funeral program designs and layouts the company has to offer.
The catalog is beautifully designed and UV gloss coated for a professional presentation. Small businesses and funeral homes will appreciate the full color catalog and large photo images for each template design page. For those looking to get into preparing funeral programs for bereaved families as a business, whether part time or full time, this catalog could prove to be a valuable tool.
"By offering families beautiful funeral program designs through our glossy magazine catalog, it can represent a business in a professional light and can promote instant credibility. There are over 350 designs and growing to choose from, with over a dozen program layout variations. The catalog can be branded to the business owner's name and is a cost effective way to kick start any funeral programs business without having to purchase template inventory up front," shares Carole Galassi, CEO.
The magazine is scheduled for publishing once a year with up-to-date information and selections. The Funeral Program Site's quality funeral templates have been widely accepted within the death care industry.
"Because we produce the magazine in-house, we can keep the cost down per issue and print on demand as needed. We have already had a high demand for our new magazine, it's that hard to keep our production in stock!" notes Galassi.
It contains designs from themes such as waterscape, spiritual, outdoor, children, simple and much more. Not only does this company service families directly with the outstanding customer service and products, but businesses can now enjoy and reap the rewards of providing customers with an excellent selection of programs only this company provides.
"I purchased their magazine catalog before it went on sale at the Funeral Program Site and it has catapulted my small one man shop, into more sales and leads. I am so grateful for this company and the quality of templates they offer. The designs are loved by all my customers and are unsurpassed in their beauty," shares a customer from Austin, Texas.
A sample of this catalog can be viewed on the company's website as well as an order form. The Funeral Program Site can also be reached 7 days a week on the toll free 1-800-773-9026 for any additional questions regarding the magazine. Follow the leader in funeral programs templates on Pinterest at http://pinterest.com/carolegalassi/creative-memorials-with-funeral-program-templates for creative memorials as well as matching guest books.