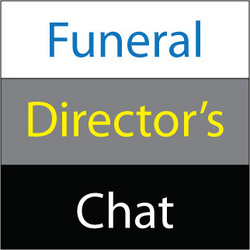 We are very pleased with the growth of Funeral Director's Chat.
San Francisco, CA (PRWEB) February 8, 2011
Funeral Director's Chat interviews Jeff Taylor, founder of Monster.com and Tributes.com about online obituaries.
During the 35 minute interview Nancy Burban, host of Funeral Director's Chat, talks with Jeff Taylor about his company Tributes.com. They review the strategy of Tributes.com: the company will setup a web page on a funeral home's site that displays the obituaries of the funeral home's clients. Mr. Taylor also discusses his previous experience with Monster.com and how this will help him while leading this new approach to online obituaries.
Obituaries online is becoming more popular as Legacy.com and Tributes.com grow. Newspapers are charging a premium for obituaries costing as much as several hundred dollars. The benefit of this online obituary site is the reasonable cost and this additional value of coordinating with funeral homes. While Legacy.com pulls obituaries from the newspapers, Tributes.com connects online submissions with funeral home's websites.
Tributes listings is an addition to newspaper listings; an obituary can be placed on both mediums. Being on the web, the obituaries can reach out to more than the local community. Additionally the pages on Tributes.com are seen in the search engines and assist with informing people of a death, that are searching for an individual.
As has been done with newspaper obituaries, a family will look to a funeral home for an obituary listing. Funeral homes can include the Tributes listing in their obituary fees; making this relationship profitable for the funeral home and easy for the family.
The interview was informative to both funeral directors and consumers. Tyler Fraser, producer of the show said, "Having Jeff Taylor on our show gave funeral directors a clear picture of Tributes.com. We are very pleased with the growth of Funeral Director's Chat."
Funeral Director's Chat started in 2010 and is produced by United Priority. The show has interviewed several funeral specialists including Thomas A. Parmalee of Kates-Boylston Publications, Glenda Stansbury of Insight Books and Joe Sehee of the Green Burial Council. With over 2,000 fans on Facebook Funeral Director's Chat is becoming a popular resource for funeral professionals. The mission of Funeral Director's Chat is to provide insight to funeral industry trends, news and topics. With Thomas Grant a professional cemetery photographer recently interviewed, a wide variety of guests are expected on the show.
For more information:
Tyler Fraser
(888) 445-4449
###