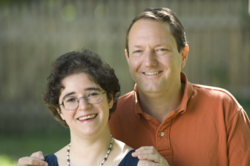 A good spoof poem should take itself far more seriously than it deserves.
Northampton, MA (PRWEB) February 28, 2013
The 12th annual Wergle Flomp Humor Poetry Contest will award $2,000 for the best humor poems. This contest is free to enter and open to all poets. The winning poem will earn $1,000. Ten honorable mentions will receive $100 each. Submit entries online at WinningWriters.com by April 1. The winning entries will be published online at WinningWriters.com.
Jendi Reiter is the final judge of the contest. She is the author of the poetry collection 'A Talent for Sadness' (Turning Point Books, 2003) and the award-winning poetry chapbooks 'Swallow' (Amsterdam Press, 2009) and Barbie at 50 (Cervena Barva Press, 2010). She recently received a Massachusetts Cultural Council Artists' Grant for Poetry, the OSA Enizagam Award for Fiction, and the Anderbo Poetry Prize.
"What makes many of our winning poems gems of badness," says Ms. Reiter, "is that the narrative voice is utterly unaware of the incongruities of subject, tone and language that spoil the poem's effect. Yet there's enough poetic skill on display to hint at what the poem could have been, which increases the humorous effect of having those expectations frustrated.
"Humorous poetry is no exception to the rule that quality requires care. Like a skater's perfectly executed triple jump, it takes hard work behind the scenes for light verse to achieve the illusion of effortlessness. Many entries fall short because they seem dashed-off, repeating old themes (gibberish, bodily functions) with nothing to distinguish them from one another. A good spoof poem should believe in itself, take itself seriously - far more seriously than it deserves."
The Wergle Flomp Humor Poetry Contest is one of four contests hosted at WinningWriters.com. These include the Tom Howard/John H. Reid Short Story Contest, the Sports Fiction & Essay Contest, and the Tom Howard/Margaret Reid Poetry Contest. Over $16,000 will be awarded in all.
About Winning Writers, Inc.
Winning Writers is today's leading source for literary contest information. We have been selected as one of the "101 Best Writing Websites" by Writer's Digest for eight years in a row (2005-2012). Our free email newsletter offers news about quality free literary contests and resources. Winning Writers was founded in 2001. Learn more at WinningWriters.com.
# # #