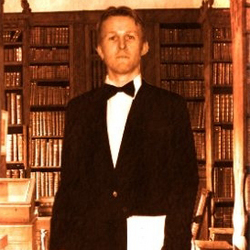 The Rape of the Cock: An Heroi-Comical Poem
Northampton, MA (PRWEB) August 15, 2008
Winning Writers is pleased to announce the results from its seventh annual Wergle Flomp Humor Poetry Contest. Benjamin Taylor Lally of Burlington, MA won first prize and $1,359 for his spoof poem, "First Edition, 2008". 838 entries were received from around the world.
The Wergle Flomp competition spoofs the low standards of widely publicized free poetry contests sponsored by Poetry.com, the Famous Poets Society, the League of American Poets, and similar operations (see our list of contests to avoid). These "vanity contests" typically award "semifinalist" status to most contestants to flatter them into buying expensive anthologies containing their poem, as well as personalized plaques, tote bags, trophies, and tickets to an annual convention ($595 apiece) where everyone receives an "award". In addition to wasting poets' time and money, vanity contests and their indiscriminate praise can keep beginning poets stuck at an unsophisticated level of writing. Once they find out they've been deceived, some poets give up on contests altogether, missing out on legitimate publication opportunities.
Wergle Flomp is the alter ego of British poet David Taub, who submitted several pieces of barely literate gibberish to Poetry.com, and received semifinalist form letters praising his "unique talent and artistic vision" and offering to include his work in the anthology Promises of Love. In that spirit, Winning Writers offers prizes for the most hilariously, deliberately bad poems to be sent to a vanity contest.
Jendi Reiter, judge of the Wergle Flomp contest, said of the winning poem: "Benjamin Lally's elaborate Walt Whitman parody mashes up familiar quotations with modern pop-culture references, while consistently maintaining a Whitmanesque grandiose voice and lust for life. I like how this poem builds momentum with ever-more-extravagant claims for the narrator's genius, yet never breaks character. Though it is recognizably a parody, it stands alone as a humorous poem in its own right."
Julie Porter of Montclair, NJ received second prize and $764 for "The Rape of the Cock: An Heroi-Comical Poem", a classical ode to Lorena Bobbitt. Sooja Jones of Thiruvananthapuram, India received third prize and $338 for "Daft Idylls", a monumental riff on Wordsworth's "Daffodils" in which a fawning representative of Poetry.com offers fame and fortune for the narrator's poetic flatulence, or "borborygmi". Twelve honorable mention prizes of $72.95 each were also awarded. All prizewinners are published online at WinningWriters.com, along with twelve finalists. The total prize pool of $3,336.40 makes Wergle Flomp one of the largest competitions for humor poems.
The Wergle Flomp Humor Poetry Contest is sponsored by Winning Writers. Submissions for the 2009 contest are accepted now through April 1, 2009. Entries are accepted online at WinningWriters.com. There is no fee to enter.
About Winning Writers, Inc.
Winning Writers is today's leading source for poetry contest information. We are proud to have been selected as one of the "101 Best Websites for Writers" by Writer's Digest for four years in a row (2005-08). Our online database, Poetry Contest Insider, ranks and profiles over 750 poetry contests and over 300 prose-only contests. Our free email newsletter offers news about free poetry contests and quality literary resources.
Winning Writers was founded in 2001 by Jendi Reiter and Adam Cohen. Learn more at http://www.winningwriters.com/
###