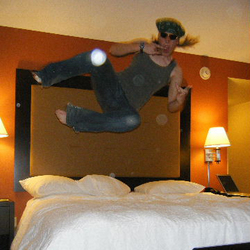 A Frivolous Social Event in the USA
Northampton, MA (PRWEB) August 15, 2010
Winning Writers is pleased to announce the results from its ninth annual Wergle Flomp Humor Poetry Contest. "Tabitha Bagatha" of Virginia won first prize and $1,500 for her spoof poem, "A Frivolous Social Event in the USA". 2,751 entries were received, more than a threefold increase in entries over the prior year. With a prize pool of $3,600, the Wergle Flomp competition is one of the largest contests for humor poetry in the world.
The Wergle Flomp competition was launched in 2002 to highlight the low standards of certain widely publicized free poetry contests (see our list of contests to avoid). These "vanity contests" bestow praise on most entries to flatter their authors into buying expensive anthologies containing their poems, as well as other costly personalized products. Since the largest such contest, Poetry.com, ceased operations in 2009, Wergle Flomp has broadened its focus to reward the best parody and humor poems from around the world.
Jendi Reiter, judge of the Wergle Flomp contest, said of the winning entry: "'A Frivolous Social Event in the USA' gives a popular Miley Cyrus song an entirely undeserved air of profundity that blossoms into florid obscenity in all the right places... Bagatha's parody exaggerates the song's youthful narcissism by paraphrasing the lyrics in loftier language."
Wendy Waters of Sydney, Australia received second prize and $800 for 'The Wife of Lance Allot', a parody of Alfred, Lord Tennyson's 'The Lady of Shalott'. Reiter said: "In the original poem, a young woman in her cloister weaves magical tapestries from scenes that she is only allowed to view in a mirror, since she is under an enchantment. But when the handsome Lancelot rides by, she defies the curse and looks directly at him, knowing it will mean her death. Like the Lady, Waters's disgruntled housewife finds that she's paid a high price for following romantic illusions, but this time she gets the last word."
Benjamin Taylor Lally of Framingham, MA, received third prize and $400 for 'The Ryme of the Old-Time Musique Man'. This parody mashes up Samuel Taylor Coleridge's 'The Rime of the Ancient Mariner' and Walt Whitman's 'O Captain! My Captain!' with outrageous incidents (both real and fictitious) from the life of Michael Jackson, now quickly becoming yesterday's news to a generation that never knew him at his talented peak.
Twelve honorable mention awards of $75 each were also made, and all prizewinners were published online, along with 14 finalists.
The Wergle Flomp Humor Poetry Contest is sponsored by Winning Writers. Submissions for the tenth contest are accepted now through April 1, 2011. Entries are accepted online. There is no fee to enter. For complete details, please see our guidelines page.
About Winning Writers, Inc.
Winning Writers is today's leading source for poetry contest information. We are proud to have been selected as one of the "101 Best Websites for Writers" by Writer's Digest for six years running (2005-2010). Our online database, Poetry Contest Insider, ranks and profiles over 750 poetry contests and over 300 prose-only contests. Our free email newsletter offers news about free poetry contests and quality literary resources.
Winning Writers was founded in 2001 by Jendi Reiter and Adam Cohen. Learn more at http://www.winningwriters.com/.
# # #