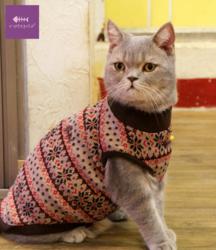 Houston, Texas (PRWEB) March 19, 2013
Funny Fur, a leading online and Houston luxury pet boutique, has just added a new apparel line geared specifically towards cats. Funny Fur is expanding their cat line as demand increases for unique and affordable cat products. The cat-only brand, Catspia, is Funny Fur's first cat clothing brand to be offered by the company.
Catspia, named after the words 'cat' and 'utopia' combined, offers cat clothes designed specifically for a cat's body. Available styles include cat sweaters, dresses, hoodies, and tanks. Funny Fur also offers other Catspia brand products like cat collars, scarves and themed cardboard cat houses.
Cat clothing has many practical applications aside from just looking fashionable, including reducing shedding of excess hair and dander. They also prevent matting, cut down on hairballs and keep your cat warm after grooming sessions or in cold weather.
"As our cat owner clientele grows, we wanted to include more unique cat products for our customers," says Funny Fur associate Karen Clark. "With the addition of the brand, Catspia, we aim to enrich and round out our cat product selection."
Customers may purchase Catspia cat clothes in the Kitty Corner category on the Funny Fur website. During the month of March, Funny Fur is offering 15% off cat products in the Kitty Corner category for online orders with promo code KITTY15.
About Funny Fur
Funny Fur is a luxury pet boutique dedicated to helping pet owners find everything they fancy with convenience and ease, all in one place, for their stylish dogs. Happy dogs and their smitten pet parents dig there for fashion forward designer dog apparel and clothes, one of a kind doggy couture wear, fashionable pet carriers, designer dog accessories, dog collars and harnesses, eco-friendly grooming and spa care, novelty dog toys, handmade pet jewelry, organic dog treats, pet furniture, premium and all natural & holistic pet foods and treats, and other fabulous dog gifts and goodies. "At Funny Fur, you can turn your pup into a prince or princess. Everything dog, everyday™. Happy pets dig here™. And that's the way we like it." Funny Fur contributes to local animal rescues and other non-profit organizations dedicated to the wellness of animals.