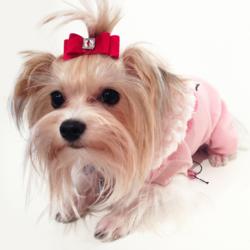 We want owners to be prepared and keep their dogs safe and comfortable, whether it be from heat or insects.
Houston, Texas (PRWEB) February 28, 2013
Funny Fur, a leading online and Houston luxury pet boutique, has just added hundreds of new spring pet products to their ever-growing selection. In preparation for spring weather, Funny Fur has added a huge array of dog clothes and accessories, and outdoor pet safety products.
New dog clothes and accessories recently added include spring dog dresses, dog raincoats, dog ties and bowties, dog swimwear and nautical themed tanks, tees and dresses. Funny Fur offers pet apparel that comes in all sizes, fitting tiny, one-pound puppies, up to full-grown dogs weighing 100 pounds and over.
Outdoor pet safety products are top sellers at Funny Fur during the spring and hot summer months. Adding to their selection of cooling pet products, Funny Fur introduces Insect Shield dog clothes and outdoor accessories that safely repel biting insects without harsh chemical odors. Insect Shield pet products are available in pet apparel, dog beds, collapsible crates and pens, bandanas and blankets.
"As the weather starts to warm up, more and more pets will be out and about at parks, beaches and backyards. We want owners to be prepared and keep their dogs safe and comfortable, whether it be from heat or insects." Says Karen Clark, Funny Fur associate. "As an added bonus, the bandanas and blankets can also be used to protect yourself from insects when outdoors."
In addition to the hundreds of spring products Funny Fur has already added to their collection, they continue to expand their offerings every week. Visit the company website to browse their full selection of pet products.
About Funny Fur
Funny Fur is a luxury pet boutique dedicated to helping pet owners find everything they fancy with convenience and ease, all in one place, for their stylish dogs. Happy dogs and their smitten pet parents dig there for fashion forward designer dog apparel and clothes, one of a kind doggy couture wear, fashionable pet carriers, designer dog accessories, dog collars and harnesses, eco-friendly grooming and spa care, novelty dog toys, handmade pet jewelry, organic dog treats, pet furniture, premium and all natural & holistic pet foods and treats, and other fabulous dog gifts and goodies. "At Funny Fur, you can turn your pup into a prince or princess. Everything dog, everyday™. Happy pets dig here™. And that's the way we like it." Funny Fur contributes to local animal rescues and other non-profit organizations dedicated to the wellness of animals.