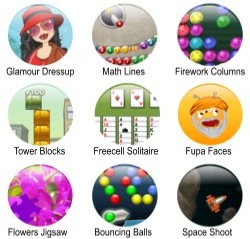 "Online dress-up games are a definite winner in the marketplace" Lars Mapstead
Santa Cruz, CA (PRWEB) March 28, 2013
Online games maker Fupa Games, Inc. has announced the launch of six new games on its popular Fupa.com website. The free games join the website's broad offering of entertainment aimed primarily at young girls and women.
With titles like Mermaid's Tail Dress Up and Stunning Fairy Pixie Dress Up, the latest games add to a varied lineup of leisure activities already drawing over 100 thousand daily users, according to the website's creator.
"My youngest daughter loves to play Mermaid's Tail, a dress-up game we created with adolescents in mind. Her unprompted glee at playing is all the market research this father needed," says Lars Mapstead, founder and chief strategist of Fupa.com.
According to industry statistics, 42% of all online gamers are female, both girls and women who find enjoyment in mixing and matching fashion outfits, colors and accessories.
"Online dress-up games are a definite winner in the marketplace," notes Mapstead. "And it's not just young girls who find value in them. Our user statistics include a large number of women in the 18-35 year old bracket. This is a key demographic for advertisers hoping to influence sales of girls' and women's product lines."
Also part of the new offering is Royal Casino Slots, an innovative slot machine simulator. All the games are available for play on various platforms including the web, Facebook and Android devices.
Fupa Games, Inc., headquartered in Santa Cruz, California is a leading casual social video game developer with a continually growing base of active users. They make available over 60,000 free online games within fifteen different categories including puzzle games, strategy games, sports games, action games, adventure games, flash games and others.
For more information on Fupa Games, Inc., their game products or website advertising possibilities, visit the Fupa.com website.