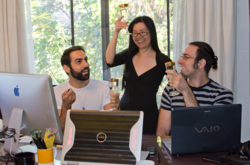 GDC gave us an opportunity to feel a part of the game industry.
Orange, CA (PRWEB) April 30, 2013
Last month, at the Game Developers Conference (GDC) in San Francisco, Sheado.net attended many speaker sessions, hung out with several independent developers, and passed out stickers and business cards to promote their virtual pet game, Furdiburb. It was the company's first attendance at GDC, which was a very informative and educational venture.
"GDC gave us an opportunity to feel a part of the game industry," commented Danny Ata, artist. "We got to meet a lot of other cool indie game developers, share ideas, and discuss some of the difficulties, challenges, as well as joys that come with running a small game house. I got to meet another artist who creates quirky cute creatures. I enjoyed the Indie Soap Box talks a lot, especially when Anna Anthropy talked about the process and ideas behind her game Dys4ia. I found it inspiring how her game allowed its users to experience a splice of her personal journey through hormone therapy, all while solving little puzzles. All in all, it was inspiring to see the vast variation between indie games, from gorefest shooters to personal journeys, and I was happy that Furdiburb was somewhere between all these amazing games."
"As independent developers we often feel secluded from the rest of the industry despite the numerous online resources out there," remarked Chad Ata, lead developer. "I was inspired by many of the lectures I attended and was encouraged by the indie developers I got to meet. Amongst my favorite lectures was the talk by the Incredipede developer who described creating the game while traveling around the world with his wife/co-developer. Another particularly moving lecture was the talk by the Retro/Grade developer who openly described his struggles with balancing his family life, a need for perfectionism (possibly driven by his obsessive compulsive disorder), and the financial realities of independently developing a high-quality PC game."
"It was a great place to gather a wide range of perspectives and validation," mentioned Alice Lo, developer and composer. "For example, in-app purchases (IAP) are often viewed upon negatively. We learned from the developers of Shellrazer how they designed their IAP 'without losing [their] soul'. I'm pleased to say that Furdiburb already incorporates their points."
"I'd love for us to go to GDC again now that we have had first hand experience," concluded Danny.
About Sheado.net
Founded in 2010 by two guys and a gal with the mission of "making the world a happier place - one app at a time". Currently targeting Android™ devices, Sheado.net is dedicated in creating rewarding and enjoyable experiences for users of any age.