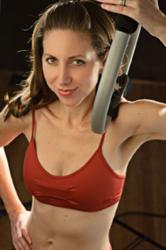 In addition to the physical benefits, there are also emotional benefits. Being able to do Pilates is a huge mood booster.
Washington, DC (PRWEB) March 13, 2013
Mariska Breland, founder of the Fuse Pilates method, launches Pilates for MS™ Teacher Training which incorporates the latest research in neuroplasticity and neurorehabilitation into a Pilates program design for common problems associated with multiple sclerosis.
The introduction of Breland's Pilates for MS™ is conveniently timed with MS Awareness Month. Diagnosed more than 10 years ago, Breland has lived with multiple sclerosis (MS) and challenged her body to curb the debilitating effects that MS can have through exercise. She has also worked with clients with spinal cord injury, a variety of chronic medical conditions, and athletes (and weekend warriors) who have suffered from sports-specific injuries. Many are surprised when they learn that Breland has MS and are eager to know how she successfully manages the disease in her day-to-day life.
"MS affects everyone in different ways, but I've found that Pilates has been hugely beneficial to maintain strength, flexibility, and balance, all of which can be lost due to the disease," says Breland.
Pilates brings a variety of benefits to one's health, including increased body awareness, control, and circulation.
"In addition to the physical benefits, there are also emotional benefits," says Breland. "Being able to do Pilates is a huge mood booster. Depression and suicide are both higher with MS patients than with the general population. That and many other symptoms can see improvement with the right kind of exercise."
Pilates also includes core exercises for stabilization, back and spine strengthening that improves posture, and dynamic flexibility that relieves muscle spasticity. This all is helpful for fighting the problems associated with MS and various other health conditions. Plus, many Pilates exercises are done sitting or lying down with no or low impact movements. This makes the workout accessible for any age and fitness level, and serves as a great introduction to make changes to one's body.
"Our programs are evidence based and scientifically proven but more than that are based on an intimate knowledge of the condition being discussed," says Carolyne Anthony, founder of The Center for Women's Fitness. "Mariska has very successfully adapted to her diagnosis of MS and is in a wonderful position to offer both education and empowerment to her clients. As with all of our courses, this course offers a depth of knowledge not found anywhere else and we are honored to have Pilates for MS on board as core curriculum for the Women's Health Pilates Specialist Certificate."
Pilates instructors who would like to add this valuable knowledge to their repertoire can now take advantage of Pilates for MS™ advanced teacher training at various studios across the U.S. The first trainings are scheduled for Fuse Pilates in Washington, D.C. in April, and J.L. Body Conditioning in San Diego, CA in May. The course is also part of the Center for Women's Fitness "Women's Health Pilates Specialist Certificate."
For information about Pilates for MS™, Fuse Pilates classes, workshops and private training sessions, visit: fusepilates.com. You can also download the Fuse Pilates app at iTunes.
About Fuse Pilates
Fuse Pilates, developed in 2005 by fitness expert Mariska Breland, builds on traditional Pilates exercises and teaching styles with an original, fun, and highly effective twist on Pilates mat and apparatus classes. Prompted by the growing popularity of the Fuse Pilates method, Breland partnered with Roxanna Hakimi to open the Fuse Pilates Playground in Washington DC's trendy Dupont Circle neighborhood in June 2011. Each Fuse class is different, uniquely customized to student requests and choreographed to upbeat music. Classes offer an intense yet approachable method of mat, tower, reformer and chair instruction, along with private coaching and wellness counseling for beginner to expert levels. Fuse Pilates' highly trained and experienced instructors concentrate on 360 degrees of the body to shape and create beautifully-toned physiques while promoting overall health and wellness. To learn more about Fuse Pilates visit: fusepilates.com.
About The Center for Women's Fitness
Founded in 1994, The Center started out as a small fitness facility that offered all types of classes from ballet to step aerobics. It also offered a prenatal fitness class designed by founder, Carolyne Anthony.
Today, the Center for Women's Fitness is dedicated to the empowerment and education of women through all stages of their lives in relation to their exercise programs.
The Center is now a leading trainer of teachers in specialized workshops including Pre and Postnatal Pilates, Pilates for Menopause, Myofascial Release Techniques, and the new Women's Health Pilates Specialist Certificate.
Their International Teacher Training certifications are taught at 12 host sites worldwide, with 15 faculty members, and upwards of 500 certified instructors who have completed their trainings. They regularly present at International Conferences and run workshops all over the world.
###