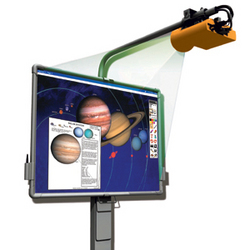 They will receive additional training in the following weeks to ensure that this is an integral part of their toolbox for delivering engaging and rigorous instruction.
Fort Worth, TX (PRWEB) October 17, 2008
Fort Worth ISD is making good on its promise to become a "digital district," installing Activboard+2 interactive whiteboards in each of the District's 5,000 classrooms over the next two years. The full installation will make Fort Worth ISD the largest district-wide implementation of interactive whiteboards in the nation.
The first phase of implementation calls for the installation of 1,700 Activboards over the next four months. Fort Worth ISD plans to install the whiteboards in three phases over the next 30 months, balancing fiscal responsibility with the District's mission - to give students the education they need to stay competitive in today's global marketplace. Improving technology in classrooms is also a key component of the District's $593.6 million bond program, approved last year by voters.
"These whiteboards will help our teachers meaningfully engage our students and assist in achieving our primary objective: to move Fort Worth ISD from a system of many good and great schools to a great school system," said Dr. Melody Johnson, FWISD Superintendent, in her recent State of Education speech.
The whiteboards consist of a large screen connected to a computer, a projector, and software programs offering literally hundreds of thousands of digital learning and multimedia resources. Teachers can access information, pictures and video from the Internet, display it for students and then manipulate it in numerous ways with the touch of a pen-shaped stylus - the same way one might use a "mouse." Teachers also have access to thousands of ready-made lesson plans through Promethean's web-based learning community, Promethean Planet.
A highlight of the Promethean technology is its interactive response systems. These provide instant communication between students and the whiteboards. In approximately one-third of all classrooms, students will use Activote hand-held devices (to answer multiple choice and true/false questions) or Activexpression hand-held devices (a more robust learner response system that enables students to text complete sentences and numerical answers).
This interaction allows teachers to:

Immediately assess classroom comprehension
Immediately assess individual student comprehension
Collect data in spreadsheet format for grading and other record-keeping
The district realizes the critical role training plays in making sure teachers and students get the most from the state-of-the-art technology.
"We are committed to providing training for our teachers within two weeks of having the Promethean board installed in their classroom," said Kyle Davie, FWISD Chief Technology Officer. "They will receive additional training in the following weeks to ensure that this is an integral part of their toolbox for delivering engaging and rigorous instruction."
About Promethean
Promethean is a global leader in classroom solutions technology that empowers teachers to engage, educate, assess and motivate learners. Developed by and for educators, its award-winning products help teachers to prepare digital lessons quickly and with greater ease. The technology enables them to create, customize and integrate text, web, video and audio content, so they can more easily capture students' attention and accommodate different learning styles.
Promethean Activclassroom solutions are helping educators teach and students learn worldwide with Activboard, the world's most durable interactive whiteboard technology; Activstudio, a software platform for secondary teaching; and Activprimary, the only product designed specifically for use in primary schools and kindergarten. It also offers wireless hand-held Learner Response Systems that permit instantaneous assessment of pupils' comprehension of lessons. Beyond the classroom, Promethean offers training and support to ensure maximum results and return on investment, while also hosting the world's largest online interactive whiteboard community, http://www.prometheanplanet.com.
Promethean is headquartered in Blackburn in the United Kingdom. Its products are distributed through a network of partners and inspire millions of learners in more than 90 countries.
Contact:
Ian Bryan
Promethean Media Relations
Tel: 828.242.1868
Email: ianbryan @ sensiblecity.com
###