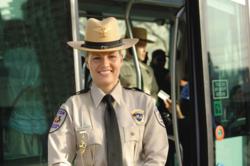 G4S is closely focused on its customers' needs, and we recognize that the quality of our workforce is critical to the success of our operation
Jupiter, Florida (PRWEB) September 25, 2012
G4S is pleased to announce the launch of its new jobs site http://usajobs.g4s.com. This new Career Center builds on a proven framework that has delivered improved candidate acquisition and retention results internationally, and has won numerous global recruitment awards. The G4S Career Center provides a candidate-focused experience where job applicants can find the right job at G4S, while learning more about the industry and the business, brush up on résumé writing skills, meet G4S team members and engage in online communities.
"Improving the candidate experience is an essential part of finding and hiring the best people for the security industry," said Jenni Myles, Chief HR Officer for the Americas Region. "In an industry where high employee turnover has sometimes been a challenge, we need to constantly innovate by actively engaging with applicants at the earliest stage of the hiring process, and maintain that engagement through their careers. Candidates must understand the full requirements of the role they are applying for, and we must confirm their skills are a good match if we are to assure better retention."
The G4S Career Center provides an outstanding candidate experience for all applicants, whether candidates are transitioning from the military, applying for operational or management positions, or simply looking for the next step in their G4S career. The Career Center engages candidates using a variety of online tools, including social media, with links to Facebook and Twitter. It highlights the various positions that are available by geography and alerts candidates to opportunities matching their requirements.
"G4S is closely focused on its customers' needs, and we recognize that the quality of our workforce is critical to the success of our operation," said Danny Grizzard, Chief Operations Officer, G4S Secure Solutions USA. "The Career Center demonstrates our investment in sourcing and keeping quality employees. One of the aspects I am most excited about is how the Center supports our ability to effectively transition large contracts and incumbent employees. We have an excellent track record in this area, but the Career Center simplifies this critical process. This is an enormous benefit to prospective customers."
The G4S Career Center has attracted more than 44,000 unique visitors, 7,400 registrants and 3,300 applicants in its launch week. Candidates considering a career with G4S can learn more at usajobs.g4s.com. All that is needed to register is an email address.
About G4S
G4S is the world's leading secure outsourcing group, specializing in outsourcing of business processes in sectors where security and safety risks are considered a strategic threat. G4S is the largest employer quoted on the London Stock Exchange and has a secondary stock exchange listing in Copenhagen. G4S has operations in more than 125 countries and over 657,000 employees. For more information on G4S, visit http://www.g4s.com
With more than 50,000 employees across the United States and Canada, G4S in North America encompasses a range of business units which together provide the opportunity for truly integrated services to Government and the business sector. For more information about G4S in the U.S., visit http://www.g4s.com/us