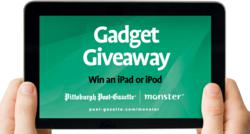 Now, through June 29, 2012, job seekers can test their luck by entering the Gadget Giveaway
Pittsburgh, PA (PRWEB) June 18, 2012
Job seekers in today's tough economic climate need no reminders that landing a job takes the right skills, a lot of persistence and, sometimes, just a little bit of luck. Now, through June 29, job seekers can test their luck by entering the Gadget Giveaway, sponsored by the Pittsburgh Post-Gazette and Monster Worldwide, Inc., for a chance to win one of 15 high tech prizes including iPads, iPod touches and iPod nanos. These prizes can also help the winners get ahead – in their job search, on their career path, or in their everyday life.
Legal U.S. residents who are 18 years of age or older can enter by visiting post-gazette.com/monster and clicking on the "Gadget Giveaway" button. Contestants can enter once per day for a chance to win. One winner will be chosen every weekday through Friday, June 29. For complete contest rules, visit post-gazette.com.
After entering the Gadget Giveaway, contestants can browse a list of hundreds of local job openings at post-gazette.com/monster or register to post a resume and complete a job seeker profile.
About the sponsors
Monster Worldwide, Inc. is the parent company of Monster.com, the premier global online employment solution for people seeking jobs and employers seeking great people. The Pittsburgh Post-Gazette is Western Pennsylvania's largest newspaper and post-gazette.com is the region's #1 website.