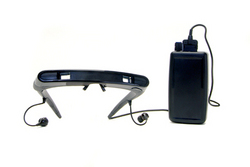 Haifa, Israel (PRWEB) February 22, 2010
There are 6.5 million American stroke survivors and 750,00 Americans who suffer a stroke each year. It is one of the leading causes of adult disability in the U.S. and Europe.
Gait impairment is common after stroke with 60% of survivors living with a walking-related disability. Walking incorrectly not only creates a stigma for these patients, but it also makes them more susceptible to injury and directly affects their quality of life.
In a study published in the January 2010 issue of the Journal of Geriatrics Association, subjects post-stroke were able to improve their walking ability after a 10-20 minute practice session with a new virtual reality device called the GaitAid.
The GaitAid, a portable home-use device, includes a pair of headphones and specialized goggles which display visual cues and play auditory cues helping the brain organize, balance and control the walking body.
No training is needed, simply put the device on and start walking. Walking sessions from 5-30 minutes with the GaitAid improve the body's sense of position and movement, balancing steps and enhancing the sense of timing for these movements. With practice, new neural connections are created in the brain so the improvement lasts even when the device is not in use.
Developed by MIT educated, Computer Science Professor Yoram Baram. The GaitAid has been shown successful in clinical studies providing lasting improvement in walking abilities for post-stroke, Parkinson's disease, Multiple Sclerosis, Cerebral Palsy and senile gait.
For more information about the GaitAid, as well as information on obtaining a GaitAid for a 30 day trial period:
Website: medigait.com
Phone: 888-777-9906
Email: support(at)medigait(dot)com
###