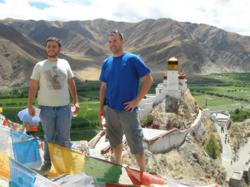 New Ganden to Samye Monastery trekking and photo tour 2013 with more culture resources is available for reservation.
Lhasa, Tibet (PRWEB) January 31, 2013
Tibet Travel Expert, a local Tibet travel agency that focuses on responsible tourism, now offers one upgraded and new Ganden to Samye trekking adventure program with cultural highlight tour in Tsetang Yarlung valley for 2013.
In past Tibet travel seasons, the trek from Ganden monastery to Samye Monastery became more and more famous. Tibet Travel Expert has recently upgraded a new Ganden to Samye Monastery trekking program to include a visit to Yarlung Valley, the cradle of Tibetan Civilization. Along the trek, travelers will enjoy varied remote Tibetan scenery from forestland to rocky landscapes and have the opportunity to learn about Tibetan Buddhism. The trek begins after taking time to visit Ganden Monastery and ends at Samye Monastery after four days of trekking. After the trek, groups will learn about Tibetan history in Yarlung Valley. This twelve-day tour is perfect for those who are adventurous and take joy in discovering new cultures.
Ganden Monastery was founded in the early fourteen hundreds and was traditionally a center of political and administrative power for the local area. Of the three university monasteries in Tibet (the others are Drepung and Sera) it is the furthest away from Lhasa and has typically housed a smaller population of monks. Samye Monastery, on the other hand, was constructed much earlier and is said to be the first Buddhist Monastery in Tibet.
The trek is between the two traverses mountain passes that provide stunning views of the surrounding area, the highest being at around 5200 m. Groups will climb down from mountain passes through fields of boulders and into valleys with streams and herds of animals. The last day of the trek passes through lush forests with more than fifteen different kinds of scrub trees before finally arriving at Samye Monastery.
Here below is the outline of the new Ganden to Samye trekking adventure.
Day 01: Arrival at Lhasa, rest for acclimatization
Day 02: Sightseeing in Lhasa: Potala Palace, Jokhang Temple, Barkhor
Day 03: Sightseeing in Lhasa: Drepung & Sera Monastery
Day 04: Free day in Lhasa, get full acclimatization
Day 05: Drive to Ganden, 70 km, light trekking
Day 06: Trek to Yama Do, 5-6 hrs, 17 km (450 m descent, 300 m ascent)
Day 07: Trek to Tsotup Chu Valley, 5-7 hrs,10 km
Day 08: Trek to Herder's Camp, 5 hrs, 14 km
Day 09: Descent Trek Nyango (4-5 hrs, total of 39 km today, route: Herder Camp-Gen Do-Yamalung Hermitage-Nyango-Wango-Pisha-Dragmar-Sangbu-Samye)
Day 10: Samye-Boat-Ferry point-Tsetang (Tibet culture cradle), rest
Day 11: Explore Yarlung Valley: Yumbulagang, Tibetan kings Tombs, Tramdruk
Day 12: Drive to Gonggar airport and Departure
Tibet Travel Expert, one online platform of Tibet Ctrip Travel Service which is a Lhasa Local travel agency, specializes in quality and one-stop Tibet travel services with affordable and reasonable prices.