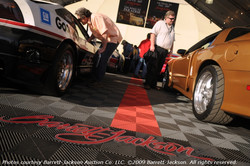 Indio, California (PRWEB) September 22, 2009
Swisstrax is now the official supplier of Garage Flooring for Barrett Jackson. Swisstrax has attended the well-know Barrett Jackson Car Auction as an exhibitor for several years. This past year, they offered to supply garage flooring tiles to use during one of the recent shows so the snap-together modular tiles could be put to the test. Now, Barrett Jackson has taken on Swisstrax as their garage flooring provider and you could see it clearly at the last show in Scottsdale. Their Ribtrax garage flooring tiles were used on the auction floor where it withstood the heavy classics and souped-up sportsters and kept the surface looking clean as the oil-leakers stood their waits. The Ribtrax tiles were also used in the Bidder Bar area and Diamondtrax was used for their merchandise booth garage flooring.
Randy Nelson, Owner of Swisstrax, began discussions last year with Ron Segall and Scott Mavis of Unique Garage of collaborating and creating a special offer to Barrett Jackson fans. Swisstrax supplies a garage flooring to match the design of the custom imaged cabinets Unique Garage creates for you (graphics are embedded into the substrate through a patented imaging system) and voila, you have your own Barrett Jackson Ultimate Garage.
Visit our website at to learn more about our Garage Flooring.
About Swisstrax - Swisstrax, Inc. offers a practical and modern alternative to standard concrete and epoxy garage flooring. Randy Nelson, President, directed the development of this revolutionary garage flooring product line in Switzerland over 19 years ago. Randy brought the product back to the USA three years ago and has centrally based his garage flooring manufacturing and distribution center in California since.
Since manufacturing began in the United States, Swisstrax has been chosen by AVIS, Mini USA dealerships nationwide as their garage flooring of choice for showrooms. Hendrick Motorsports, US Armed Forces, Ferrari, Bobby Unser Racing, Grand Am, American Le Mans, Mini USA, Ford Motor Company, and most recently, Shelby Automobiles are just some of the clients to take advantage of the distinctive look of the Swisstrax's garage flooring line.
Contact:
Randy Nelson
Swisstrax Corp.
760-347-3330
Swisstrax.com
###