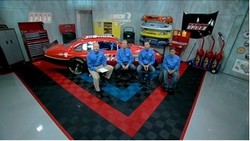 Indio, CA (Vocus) August 7, 2010
Swisstrax supplied their garage flooring tiles to SPEED first back in March '09 for an AMA (American Motorcycle Association) studio set and now have supplied garage flooring to help enhance the look and design of SPEED's NASCAR Performance studio set. Swisstrax high-impact resistant and heavy load bearing flooring tiles are used worldwide for garage flooring, workshop floors, displays and event flooring as well as multiple other applications.
Swisstrax is proud and excited for this new partnership with SPEED, whose shows - both taped in-studio and live at race venues – are a must-see for any racing and motorsports fan! SPEED's NASCAR Performance airs on Saturday or Sunday in SPEED's NASCAR Sprint Cup pre-race lineup. Check your local listings. You can view the SPEED show lineup as well as get NASCAR, AMA and other racing and motorsport news anytime at speedtv.com.
A temporary garage floor has been used on the NASCAR Performance set for a previous recordings, and the new design debuted Sunday, 3/28/2010. The garage floor includes Swisstrax's custom Logotiles – a product offered and supplied only by Swisstrax for inclusion in their garage floors.
Randy Nelson, Owner of Swisstrax, was first in contact with SPEED's Senior VP of Production & Network Operations and Executive Producer Rick Miner in February 2009, and the two met up at Barrett-Jackson in Scottsdale, AZ.
Visit our website to learn more about our Garage Flooring.
About Swisstrax – Swisstrax, Inc. offers a practical and modern alternative to standard concrete and epoxy garage flooring. Randy Nelson, President, directed the development of this revolutionary garage flooring product line in Switzerland over 19 years ago. Randy brought the product back to the USA three years ago and has centrally based his garage flooring manufacturing and distribution center in California since.
Since manufacturing began in the United States, Swisstrax has been chosen by AVIS, Mini USA dealerships nationwide as their garage flooring of choice for showrooms. Hendrick Motorsports, US Armed Forces, Ferrari, Bobby Unser Racing, Grand Am, American Le Mans, Mini USA, Ford Motor Company, and most recently, SNAP-ON and Shelby Automobiles are just some of the clients to take advantage of the distinctive look of the Swisstrax's garage flooring line.
Contact:
Randy Nelson
Swisstrax Corp.
760-347-3330
###