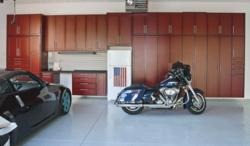 Our ability to offer American-made custom garage and storage options without the custom price is what has set us apart from our competitors.
South Beloit, IL (PRWEB) January 11, 2012
RedLine Garagegear today announced 2011 sales had increased 30 percent over the previous year and several new dealers of the mid-priced garage cabinets were added to the company's North American operations, while keeping all of the manufacturing in house.
"We spent a great deal of the last year listening to feedback from our customers and dealers and that has led to improvements in our garage cabinets and other products, our sales, and our service. We are a small company carving out a niche in the market using a lean approach to manufacturing which includes 5 day lead times," said Bill Garrity, National Director of Sales and Research. The emerging company anticipates another increase in sales in the coming year as they seek to increase their dealer network and ramp up their direct to consumer marketing efforts. "I anticipate continued growth with sales increasing another 30 percent in 2012," added Bill.
RedLine Garagegear manufactures custom-made, powder coated garage cabinets for residential customers sold through dealers around the United States and Canada. Every piece is made in house so the manufacturer does not need to inventory any parts. Customers are able to have their custom built garage storage solution shipped directly to them in a mere 5 days or less after placing an order. Garage cabinets are available in several different powder coated colors and more than 500 cabinet sizes and types are offered.
RedLine Garagegear has seen steady sales increases in its garage cabinets with the specialty wood powder coating finish. Because RedLine builds every single part, the garage cabinets are easily customized to fit the needs of their expanding customer base. The manufacturer is constantly developing and designing new lines of garage cabinets in order to provide the best possible options for the taste, space, and storage needs of their customers.
The company focuses on helping homeowners with garage organization by providing custom garage storage cabinets and storage solutions without the custom made price. "Our ability to offer American-made custom garage and storage options without the custom price is what has set us apart from our competitors," said Troy Greenberg, President. "Every aspect of the manufacturing process is handled in house allowing us full control over the process from building the parts to applying the unique powder coated finish."
Troy remains convinced that powder coating MDF is the best garage cabinet option for any garage condition and it looks as if consumers across the country agree with him. "We knew that we could provide a superior product than what was available on the market and I think our results are showing that we were right."
RedLine Garagegear sells direct to consumers when no dealer is in the customer's area. Local dealers are available in about 50 locations in the United States and are setup in territories to prevent inefficient overlaps. Unlike the franchise model, dealers are not required to pay franchise fees or royalties to join the RedLine Garagegear network. "We want to provide business owners with a great opportunity without requiring huge upfront franchise costs," said Troy. "In fact we make the initial investment by providing each dealer with a search engine friendly webpage to get them started."
The coming year promises to be another success for Redline Garagegear. They will continue to make a great product and help organize every garage in North America one garage at a time.
RedLine Garage Gear is a division of Greenberg Casework Company,Inc. located in South Beloit, Illinois. Greenberg Casework Company is a small company that has been supplying custom cabinetry, casework and store fixtures to the business and building industries since 1985. The company prides itself on attention to detail, quality workmanship, and keeping their customers' needs first and foremost. Greenberg Casework Company has three cabinet auxiliary lines: RedLine Garagegear, RedLine Closet Systems , and GCC Coatings. In addition, the company manufactures components and powder coated parts for OEM manufacturers and store fixture companies.
###