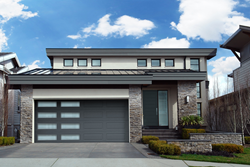 The study reports that when consumers replace an older garage door they can recoup an average of 97.5 percent of their expenditure.
WAUSEON, Ohio (PRWEB) February 26, 2019
For the second year in a row, replacing a garage door has been identified as the number one top-rated home improvement project in the country. According to the 2019 Cost Versus Value Study, coordinated by Remodeling magazine, a garage door replacement project has an almost 100 percent return-on-investment for homeowners.
"The study reports that when consumers replace an older garage door they can recoup an average of 97.5 percent of their expenditure," says Jeffrey Nofziger, president of Haas Door. "That's an impressive ROI that lets homeowners know that adding a new garage door is a smart decision."
"Homeowners simply can't go wrong by investing in a new garage door. This study shows that for almost every dollar spent on a garage door, homeowners get the same amount back in added value to their home."
Curb Appeal Improvements
One of the ways a new garage door enhances a home's value is by strengthening its curb appeal. Nofziger points out that the design of many homes calls for the garage door to be located on the front of the house exterior. This provides the opportunity for homeowners to unite the overall style of the home when adding a new garage door.
"Over the years our company has added a wide variety of color and design options to meet the need for personalization of garage doors," says Nofziger. "If a home has a modern exterior, it's easy to match that up with complementary Residential Aluminum 360 Series garage doors with lots of glass. Similarly, a home can have a Craftsman-style exterior and then carriage-style American Tradition Series garage doors that lend themselves to the overall Arts-and-Crafts design of the house."
The free online HaasCreate Visualizer makes it simple for people to see how a new garage door will look on their house. Homeowners can upload a picture of their home (or use one of the pictures provided) and then "try on" different door styles. With just a few clicks of the mouse, the user can quickly see different Haas Door styles, window glass, colors, hardware and trim details of a new garage door on a home.
Glass Where You Want It
"Today's garage doors are stylish and hard-working," says Nofziger. "Another advantage to replacing a garage door with a Haas Door this year is that consumers can basically design their own garage door, with glass installed in almost any location, to create a custom style."
Nofziger points to his company's new SelectView window placement option to illustrate how consumers can achieve their personalized garage door. Unique configurations, such as staggered windows or a vertical line of windows, can be configured with SelectView.
In addition to strong curb appeal, factors that make replacing a garage door an appealing investment for homeowners include the insulation value of a new door and strong warranty. "The garage door plays an important role in both the functioning aspect of a home along with a decorative appeal," says Nofziger. "Understanding that a new garage door will virtually pay for itself should make homeowners exceptionally comfortable in making this investment."
Haas Door is located in Wauseon, Ohio, where the company manufactures steel and aluminum residential and commercial garage doors. The family-owned company holds memberships in IDA and DASMA, and produces products that are sold throughout North America. For more information on Haas Door, visit http://www.HaasDoor.com.