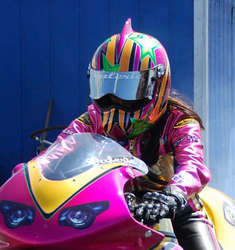 Indio, CA (PRWEB) September 17, 2008
For the past year, Swisstrax has been a proud sponsor of Valerie Thompson Racing. Randy Nelson, owner and president of Swisstrax, met Valerie in 2007 at the annual SEMA show in Las Vegas. Valerie has selected Swisstrax as her official NHRA Pro Stock Motorcycle race team flooring. The Two-Time Bonneville land speed record holder made her long anticipated debut at the Mac Tools U.S. Nationals NHRA POWERade Drag Racing national event on August 28 to September 1. She displayed her new Pro Stock Motorcycle on the modular event flooring during the 5-day event, which is televised on ESPN2. Swisstrax is the manufacturer and sole distributor of their interlocking floor tiles to North America and also sells its product to companies in Central and South America, Australia, Korea, Japan and Europe.
Valerie's response to her relationship with Swisstrax:
"I wanted to take this opportunity to sincerely thank you for your support in 2007. Swisstrax is in my opinion, the best floor of its kind on the market today. I am grateful to be part of your team.
Your commitment has made possible this year's phenomenal team success, including a Special Recognition Award. Valerie Thompson Racing Team was awarded the 2007 Best Appearing Team. We believe this award is your success as well.
It was important to me to have a great hospitality area where fans would feel welcomed at all times. The Swisstrax flooring gave the team a fresh new and exciting colorful pit area to hang out in. I cannot wait to get my logo placed into the flooring.
Thanks again for taking my race team to the next level of racing...I look forward to working with you in the future. Let's keep the competition behind us and race one tile at a time!"
Valerie Thompson/Team Owner
Valerie Thompson Racing
Swisstrax also announces a new company division, Swisskits.com, ready-to-go kits of complete floor pads and floor mats for use as garage floor pads; car display floor pads; patios floor pads; as well as for commercial floor pads and event and tradeshow booth flooring pads. There are many more uses to these flooring kits, which are made of the same durable modular floor tiles sold by Swisstrax for wall-to-wall applications.
The web-based company will open up its new website, http://www.swisskits.com in the fall of this year. Not only are there many designs and colors of pre-designed kits to choose from; you can also customize your own floor pad for size, design and tile color.
Swisskits.com will offer different "Kit of the Month" specials and as with Swisstrax, will offer a $50 referral bonus to customers who have purchased a floor pad and refer a new customer who also purchases a 400 square foot flooring pad.
###