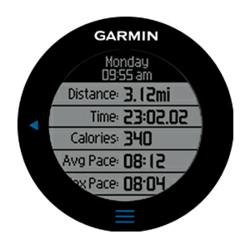 Finally, a running and cycling watch that delivers super fast navigation and incredible customization, with all of the features we had always hoped for.
(Vocus/PRWEB) April 14, 2011
There is no other watch for runners, or cyclists, like this anywhere else in the world because it's the world's first touch screen navigation GPS watch and heart rate monitor. The excitement has reached fever pitch for the endurance athletic community and nanotechnology has finally brought us the Dick Tracy watch, and it's for real and will be available in early-May.
The introduction of the Garmin Forerunner 610 will be at the Boston Marathon this Monday, April 18th, which is very fitting, but the watch will be in such limited quantity that the real introduction will not be until the first week of May. Based upon the early indications of interest, it would probably be wise to get one ordered before they arrive, according to a Heart Rate Watch Company spokesperson, because when they arrive in May they could easily be all spoken for.
"This is indeed an exciting moment in GPS fitness watches because the first touch screen bike computer, the Garmin Edge 800, already has proven how superior this type of navigation can be." stated Rusty Squire, President of national online retailer the Heart Rate Watch Company. He continues, "Adding new features like cumulative Training Effect, Virtual Racer, and then a touch screen display, which quickly navigates to more data faster than ever before, is going to be outstanding for runners and cyclists".
THE REAL ADVANTAGE TO TOUCH SCREEN
The speed with which you can navigate with touch screen is far faster than any watch that requires button navigation and the screen displays are the most highly customized displays available anywhere. When you combine these highly unique features with the new Training Effect, that helps optimize your training load, and the new Virtual Racer, that allows you to race previous bests, then you've got all the ingredients of a success story in the making.
Indeed, Garmin has released more fully-integrated GPS watches than any other manufacturer and many manufacturers are still using additional external sensors to provide their GPS navigation. Squire says, "The accuracy, sensitivity, and features of the Garmin GPS watches has done nothing but improve from generation to generation." He adds, "We are now about eight years into the GPS phenomena and the technology is getting good - very good." He pulls out a map created last summer by a runner in San Diego and you can see which sidewalk the runner is on and when he crosses the street.
STRANGE THINGS HAPPEN WHEN YOU BUY A GPS WATCH
The funny thing is that once you start using this watch for one sport, you find yourself bringing it along for everything. A good case in point, the Heart Rate Watch Company's bike team members brought their Garmin Edge 800 touch screen bike computers in their pockets for skiing, hunting, snowshoeing and a variety of other outdoor activities all winter long. As Squire says, "With the CityNav maps, my wife will take my bike computer so she gets turn-by-turn directions to her real estate appraisals, which makes me chuckle because I bought it for biking." In fact, one member of their bike team used it to find his way back to the car in the wee morning hours from deep in the forest and said that without it they could have spent the night.
The Garmin Forerunner 610 will create highly detailed maps. Once your data is downloaded to Garmin Connect software you can see both detailed maps and elevation profiles. You can drag an icon to the top of a hill to see all of your data frozen at a particular moment in time. Better still, you can move the icon one-quarter mile past the peak of a summit to see how you recovered from the effort.
The Forerunner 610 will come in two versions, one with a Garmin soft chest strap and one without the strap, which is for previous owners of Garmin products. Both versions come with a charging clip and USB wall adapter for fast charging, as well as a USB data transfer stick that will move all of your data to Garmin Connect software. The price for the complete bundle is $399.99 and the price for the bundle without the chest strap is $349.99
Additional accessories for the Garmin Forerunner 610 include an optional cadence sensor for cycling and a carrying case.
FINAL CONCLUSIONS
The new Garmin Forerunner 610 is likely going to be the biggest fitness product launch for outdoor athletes in all of 2011 and the timing could not be better because the weather is breaking and it is time to get outside.
# # #