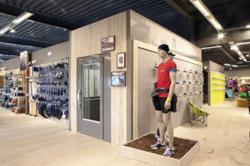 (PRWEB UK) 21 March 2013
The company Gartec have announced a new addition to their range of platform lifts, the new Aritco 9000 Cabin Lift. It combines the feel of a passenger lift with the ease of installation and cost benefits of a platform lift.
The Aritco 9000 Cabin Lift is the first lift to be so closely aligned to a conventional lift and yet there is no comparison; working out at around 60% of the cost of a typical passenger lift installation.
Benefits of the Aritco 9000 Cabin Lift:

Builders' work reduced at a stroke - no need for a structural lift shaft
No deep pit - saving £1,000's on the lift pit construction costs
Gartec are able to fit it completely (there is no need for providing a lifting beam for installation)
All the benefits of a platform lift (75mm pit, 2400mm headroom) with the added comfort of an enclosed lift car
Enhanced passenger experience - 'single touch' operation, normally only seen in a conventional lift car
Meets platform lift criteria within - Part M, the EC Machinery Directive and helps your client achieve Equality Act compliance
3 days installation time - compared with 2-3 weeks for a conventional lift
Reduce your building's carbon footprint and energy consumption - in use, the energy consumption of the lift is similar to that of a hair dryer. When idle, it uses virtually no energy at all. Therefore building energy costs can be reduced significantly by specifying an Aritco 9000 Cabin lift.
The Aritco 9000 is ideal for fitting into buildings where space is at a premium and where a conventional passenger lift would simply not be possible. It has a market-leading pit depth of only 75mm, coupled with a headroom requirement of just 2400mm. The Aritco 9000 also takes just three days to install. It comes with its own shaft enclosure, so very little building work is required to fit the Aritco 9000.
About Gartec:
Gartec are an Aritco group company and have over eighteen years experience in the lift industry, supplying platform and access lifts across the UK. In the last three years, Gartec has installed over 250 lifts in schools, colleges and universities providing them with the experience to offer solutions for any kind of educational building or learning institution across the UK and Ireland.
Gartec lifts have many features; vandal resistant features such as flush buttons, and the option to restrict access via a locking facility. As standard, all access products include safety features such as safety sensors around the platform, non-slip flooring and overload indication.