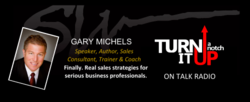 Clients that follow Gary's program conservatively see a 15-20% growth within 3-6 months and 50% or more year after year!
San Jose, CA (PRWEB) March 19, 2013
Ray De La Garza talks to San Francisco Bay Area entrepreneur about his new position at 2101 Records on the radio talk show, Turn It Up A Notch with Gary Michels. On the local talk show, Gary Michels, leading motivational speaker and sales trainer, discusses straightforward sales techniques and strategies to improve skills and performance for sales professionals and managers.
"We're elated that we are able to interview Ray," stated Gary. "The show is about talking to the best salespeople and business leaders and having them share specifically what skills or strategies they use to achieve their success." Ray De La Garza has been the VP of Programming at Radio Disney for the past five years and now will oversee the day-to-day promotion, publicity and A&R departments at 2101 Records.
"This is going to be a rockin' show," Gary said. On each show, Gary interviews 2 top sales producers (top 5% of their industry or company). "Our first guest, Jennifer Chang has an amazing track record and contradicts the stereotype of the unethical salesperson. Jennifer Chang, a San Francisco Bay Area native who now resides in Colorado, is the Strategic Account Manager of Cisco and was recognized by her company as the 2012 Cisco Achiever Winner.
Turn It Up A Notch with Gary Michels which features the interviews of Ray De La Garza and Jennifer Chang will air on the San Jose talk radio station 1590 AM KLIV and online at http://www.KLIV.com (by clicking the "Listen Live" link ), Sunday, March 24 at 4:00 pm PST/7:00 EST.
Gary Michels currently serves as Co-founder of the motivational training company, Southwestern Consulting, and speaks regularly on the Success Starts Now seminar speaking circuit. Gary writes frequently for various organizations and companies on sales excellence and is the author of Gettin' In and Gettin' Out, How to Get In Every Prospect's Door and Get Out with a Sale and Turn It Up A Notch Weekly. He conducts public seminars and sales conferences across the country, as well as individual sales training, sales coaching, and consulting. Clients that follow the program conservatively see a 15-20% growth within 3-6 months and 50% or more year after year . If you want to increase profit margins; improve your sales team's confidence and competence; and produce more consistent sales results, contact Gary Michels at http://garymichelssalesmotivation.com/contact-us/.