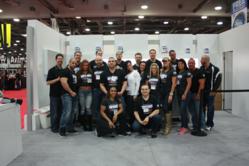 "Rich's brand strength attained a new level at this year's Arnold Classic... The 2013 Lifetime Achievement Award was another jewel in the Gaspari Nutrition brand's crown of excellence." said Dan Pierce, VP of Brand Strategy
(PRWEB) March 09, 2013
The 2013 Arnold Sports Festival Expo was a vital one for Gaspari Nutrition. With the launch of the new pre-workout Superdrive, Rich Gaspari's Lifetime Achievement Award, and two competing Team Gaspari athletes, the weekend was full of excitement and anticipation. Fans in the booth had the opportunity to sample Superdrive, along with IsoFusion, Aminolast, and MyoFusion Elite. While waiting for samples, they also had the opportunity to pose in front of a green screen displaying their favorite Gaspari athlete. Photos from the booth and green screen can be found on Gaspari's Instagram (@GaspariNutrition) and Facebook page.
After a lifetime dedicated to the sport of bodybuilding, Rich Gaspari was honored with the Arnold Schwarzenegger Lifetime Achievement Award. Prior to the event, Rich did an in-depth interview with NPC News chronicling his inaugural Arnold Classic victory. In the interview, he details the story of Schwarzenegger personally calling him and asking that he compete in the show. Saturday night on the Arnold stage, Rich delivered an emotional speech and graciously accepted the award in front of thousands of people. Photos from Rich's big night can be found on the NPC News website as well.
"Rich's brand strength attained a new level at this year's Arnold Classic. IsoFusion and Superdrive are a testament to his competitive spirit and commitment to innovation. Him winning the 2013 Lifetime Achievement Award was another jewel in the Gaspari Nutrition brand's crown of excellence", said Dan Pierce, V.P. of Brand Strategy.
Hidetada Yamagishi and Jaime Baird, two of Team Gaspari's premier athletes, took the stage during the Arnold weekend as well. Hidetada, despite breaking his wrist two weeks prior, gutted his way to an impressive 5th place finish. Onlookers wouldn't know he had such a serious injury from the calm demeanor he displayed in his posing routine, but the pain had to be excruciating. Jaime took 6th in the Bikini International amidst high level competition.
Look for a two-part GaspariTV series coming soon with exclusive interviews and a behind-the-scenes view of the weekend from start to finish. Episodes can be found on the GaspariTV website and on the Gaspari YouTube page.
About Gaspari Nutrition®
Gaspari Nutrition is headquartered in Lakewood, NJ and is a rapidly expanding, healthy lifestyle sports company that develops and distributes a full line of nutritional supplements. Gaspari's propriety and award winning products address all categories of an active lifestyle including muscle building, weight loss, and general fitness through a daily nutritional supplement regimen. They are one of the few companies to sponsor independent 3rd party research on their products to prove their efficacy. Gaspari Nutrition is sold in over 85 countries, including over 85 Popeye's locations in Canada, and available in over 5,000 US retail outlets that include GNC, Vitamin Shoppe, and Kroger, as well as over 100 online stores, including Bodybuilding.com, Amazon, DrugStore.com, and SupplementsCanada.com. For more information, please visit http://www.GaspariNutrition.com.