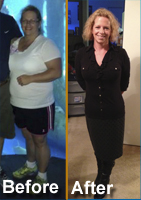 I don't realize I'm that small until I put the clothes on and realize I am there! I really did make it!
(PRWEB) March 19, 2013
Dr. Nilesh A. Patel of Texas Bariatric Specialists (TBS) announced today that patient, Melissa Brewer, has finally ended her toxic relationship with food after a rough go of Sleeve Revision surgery correcting a hernia resulting from an unsuccessful procedure performed by another surgeon.
Melissa Brewer had never been thin. "I came out of the womb as a size 10," she laughs. She grew up on a traditional South Carolina farm, where whatever her family raised and grew, they ate. Most meals were carb-heavy, including rice/grits/pasta, or fried in lard. Melissa always cleaned her plate; and although she enjoyed the occasional bike ride or swim, she was generally not a very active child. Once she hit her adolescent years, she started getting involved in sports like soccer, basketball, baseball, and football. She even became the first girl in her neighborhood to join the guys' football team! Unfortunately, this didn't last more than a couple of years because Melissa started breaking some bones, preventing her from continuing her sport. This disappointment led to some emotional eating habits that carried on into adulthood.
Melissa didn't eat a whole lot during the day. She had a busy schedule that left no time for breakfast and she only had enough time to grab a candy bar or a soda at lunch. "I didn't make myself a priority," she states, "I didn't appreciate food." Late at night, she would be so stressed out from her days work that she would scarf down 3/4ths of a large pizza – her "go to" food. She would eat past her full point and go to bed stuffed.
Melissa knew her habits were bad; her blood pressure and cholesterol were sky-rocketing and she was classified as pre-diabetic, but the cycle was hard to break. And, with her body aches, exercise was out of the question. "I couldn't even think about walking a mile on the treadmill without my knees hurting or getting out of breath," she exclaims. She even tried Weight Watchers and gained weight in the first week! She said," I felt like I was going to die because I wasn't going to do anything but gain weight. My metabolism was shot, and the stress just made me eat more!"
One day, she was talking to a friend who had undergone weight-loss surgery with Dr. Patel. She was the wife of a physician and Melissa thought, "If a doctor supports his wife doing this, then it must be safe," so she decided to attend one of Texas Bariatric Specialists weight-loss seminars. After the seminar, she realized that there needed to be a permanent reminder in her life, a lifestyle change, to keep her motivated towards better habits, and that's when she made the leap towards Gastric Bypass surgery.
Melissa's struggle did not end with her first surgery, though. After completing her criteria for weight-loss surgery at Texas Bariatric Specialists, Melissa's insurance required her to get the procedure done through a different surgeon. Soon afterwards, complications arose: her kidneys started shutting down and her stomach felt like it was weighed down by a ton of bricks. She couldn't eat, drink, or swallow without shortness of breath. At her follow-up appointment she scheduled with Dr. Patel, Melissa was in tears. After completing an EGD, it was determined that her first surgery had resulted in a hernia. Keeping an open-mind, Melissa, with Dr. Patel's help, decided to get a Laparoscopic Sleeve revision surgery.
After her revision surgery, people constantly ask her if she regrets the procedure after all she went through. Melissa's response is, "I had a rough go but I wouldn't go back and change anything." She adds,"Dr. Patel fixed me and it's been great ever since!" She even talks highly of the rest of the staff who offered to pick her up if she was in too much pain from her hernia to drive home.
Post-surgery, Melissa's whole way of eating is different. She makes sure to eat every 3 hours, makes smoothies with real fruit (not juices), and consumes a lot of high protein foods. She can't eat foods that are high in fat anymore, but she still knows how to splurge on special occasions in moderation. "Nothing is off limits," Melissa proclaims, as she proceeds to explain her Valentine's Day slice of cheesecake of which she had only one bite.
Shopping has even become an enjoyable activity. Before her procedure, Melissa didn't feel comfortable wearing anything but scrubs; and now, she feels confident wearing Victoria's Secret. She is able to fit in the size 4 clothes of the friends she always admired. Melissa said, "I don't realize I'm that small until I put the clothes on and realize I am there! I really did make it!"
Melissa concludes, "Dr. Patel may not have done the original surgery but he's taken ownership of it. He took my case personally; and for that, I give him all the credit!"
About Texas Bariatric Specialists
Founded by Dr. Nilesh A. Patel, MD, a nationally recognized and fellowship-trained bariatric surgeon, Texas Bariatric Specialists (TBS) is a holistic weight loss practice focused on delivering long-term weight loss solutions for patients. Dr. Patel specializes in surgical weight loss procedures including Lap Band, Gastric Bypass, Gastric Sleeve, Gastric Band, and the revision of failed weight loss surgery, which have resulted in over 2,500 surgeries exceeding the national average of successful weight loss management. With a commitment to surgical expertise, compassionate care and exemplary preoperative and postsurgical consultative services, Dr. Patel and his staff at Texas Bariatric Specialists ensure successful weight loss management for their patients through long-term relationships to support good health. Offices are located across major cities throughout Texas including San Antonio, Austin, Corpus Christi, New Braunfels, Seguin, Boerne, Kileen, Temple, Del Rio and Laredo. For more information, or to book a free informational seminar, please visit http://www.texasbariatricspecialists.com.